LEIPZIG - ATLÉTICO MADRID | OBLAK
Oblak: "If you don't concede you only have to score one"
The Atlético keeper spoke to AS ahead of the Champions League quarter-final: "Leipzig with and without Werner are two slightly different teams."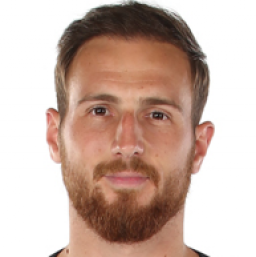 Jan Oblak has become one of Diego Simeone's most important players since his arrival at Atlético Madrid from Benfica in 2014. For many the finest goalkeeper in the world, the Slovenia international is back in Lisbon for the Champions League final eight mini-tournament where Atlético will face Leipzig for a place in the semi-finals, where Paris Saint-Germain await after the Ligue 1 side's incredible comeback against Atalanta. Oblak spoke to AS ahead of the game, in which Ángel Correa and Sime Vrsaljko will be missing after testing positive for Covid-19.
How is the team doing after the positive tests for Correa and Vrsaljko?
It's been a difficult few days and we're all a bit stressed because of the tests. It's a blow that two teammates have tested positive and had to stay in Madrid. We're sure we'll be fine, we've been able to train as much as we can, we're preparing for the game as we normally would and we'll be ready for it. I've spoken to them by text and they're ok, they don't have any symptoms and I hope they recover quickly.
How would you define Leipzig without Timo Werner?
Leipzig with and without Werner are two slightly different teams, but not necessarily better or worse. They have a lot of options, a lot of quality and they've shown that all season in the Bundesliga and the Champions League. Leipzig are a very attacking side but they also defend well and if you look at the stats I think they have the second or third best defence in the Bundesliga. They also press high up the pitch and move the ball well so we're expecting a tough game.
Atlético have a lot of experienced players in Europe.
That's something that could work in our favour but other players without that much Champions League experience will go about the game the same way; we've all been playing football for a long time. We have a squad of players with a lot of experience under our belts.
Nagelsmann suggested Atlético are a provocative side. Does that hurt or add motivation?
It doesn't bother me. I didn't know he'd said that, I don't read much before games. I respect everybody's right to an opinion. People can think what they want and I know we're not a provocative side but if someone wants to think that I respect their right to have a different opinion than mine.
Is it an advantage to be playing one game? Are you preparing for penalties?
Playing one game is new for everybody. I don't think it benefits anybody. We've always played well over two legs and home games have always been our lifeblood. Now we won't have the fans with us and we have to ready for everything, 90 minutes, 120 minutes or a shoot-out.
The Champions League is in Lisbon this year, a city that you have fond memories of.
Lisbon is a special city for me. I came here when I was 17 and then went out on loan to various clubs in different cities but Lisbon was the first city I went to when I left Slovenia. It holds a special place in my head but to be honest it doesn't really matter if you win the Champions League in Lisbon, Milan, Madrid or London. It'll mean the same and I hope we can do it.
Did anybody think Marcos Llorente could be a good striker?
To be honest, no. We never thought he'd end up playing up front but in training we've all seen that he's got a good shot on him from distance and he's fast, but we never thought he'd be a striker. But against Liverpool he came on, scored twice and proved he can play in that role. I'm happy for him, he's found his place, which is always difficult in your first season, and he's done it in a position he'd never played in before.
João Félix hasn't had it easy in his first season…
It's always difficult when you move to a new club. It wasn't easy for me either, I know how it is, the emotions you go through. But with time, if you have the talent and a cool head, your time will come and things will turn out as they are meant to.
Do you think his price tag weighs heavy on him?
I don't think so and I don't think he does either. It's a plus, it gives you confidence in yourself. He's shown the quality he has in many games and I'm sure he'll be successful. He's young and it's never easy but he'll do it.
Koke told AS that when Diego Costa is up for it the whole team senses it. Is he particularly motivated for this?
When Diego is firing, the whole team feels it and it means a lot for all of us. When he presses and plays the way the team needs him to he is a huge influence. He's in a good moment now and in great shape physically, so he can be a key player for us.
Iker Casillas says that a save is worth the same as a goal. Would you agree?
Firstly, Iker has won the lot and I'd like to congratulate him and wish him all the best for the future. And yeah, I'd say a save is as important as a goal. If you don't concede you only have to score one. If you do, you have to score twice. Every save you make is one fewer goal the team needs.
There's been talk in England of Chelsea's interest…
It's not the time to talk about that, right now we've got Leipzig to think about. I'll assess the season when it's over and hopefully we've got three games left. There'll be time after that to talk.
Lots of people say that Atlético are owed a Champions League. Is now the time?
Everybody here deserves a Champions League and I hope this is our moment. It's hard to look beyond this game, we have to beat Leipzig first and then we can look ahead. But I couldn't be happier for myself, for the team and for all Atlético fans if we win it this year.