Which of the 2019-20 favourites boast the most former winners?
PSG, Bayern Munich and Barcelona have a number of European champions in their ranks but Manchester City's two previous Champions League winners are less obvious.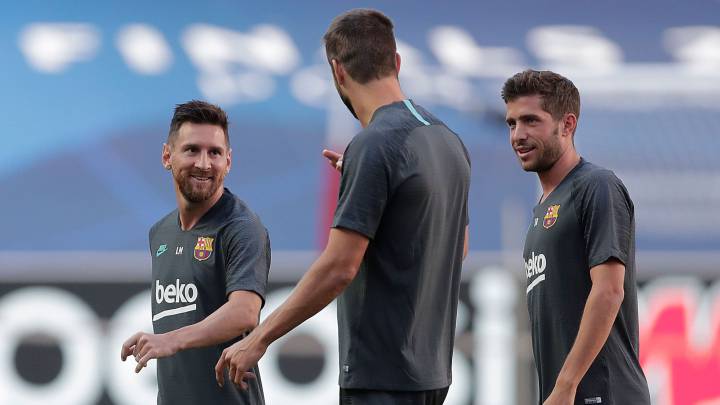 Manchester City went into the quarter-finals tournament in Lisbon as many people's favourites to be crowned European champions for the first time in their history. It has not been their most impressive season in the Premier League but after knocking out Real Madrid in the last-16 they reaffirmed their status as one of the game's elite clubs.
Three of the last four Champions League finalists were Premier League sides but City are the only English representatives in this year's final eight. Liverpool have dominated the Champions League in the previous two seasons but the roles of England's top two have reversed with City now looking to make the final step in Europe.
The other favourites for the competition are Barcelona and Bayern Munich, who face off on Friday evening, and Paris Saint-German who have already booked their place in the semi-finals. Those sides all boast a number of Champions League winners in their ranks, but the vast majority of City's squad will be dreaming of becoming European champions for the first time.
Manchester City
Victory over Real Madrid has given Manchester City fans the belief that this is their year for Champions League glory and in Pep Guardiola they have a manager with a proven track record in Europe. Guardiola won the competition once as a player and twice as a manager, all coming during his stints at Barcelona. However the rest of the City contingent in Lisbon has had little success in Europe with only back-up goalkeepers Claudio Bravo and Scott Carson currently in possession of Champions League winners' medals. Even those came as unused substitutes in Barcelona's 2014/15 and Liverpool's 2004/05 triumphs.
Paris Saint-German
Like City, PSG's best European performance to date was a Champions League semi-final appearance but they do have a number of players who have starred for other clubs. Most notably, Keylor Navas was in goal for Real Madrid's three consecutive Champions League wins under Zinedine Zidane, and was voted goalkeeper of the tournament in 2017/18. Angel di Maria was named Man of the Match in Real Madrid's 2013/14 La Decima triumph, while Neymar scored the final goal in Barcelona's 3-1 victory over Juventus in the 2015 final.
Bayern Munich
One of only two sides left in the competition with a Champions League win to their name, Bayern retain a number of players from their victorious 2012/13 campaign. Manuel Neuer, Jerôme Boateng, David Alaba and Thomas Müller still form the spine of the Bavarians' team, while Javi Martinez offers experience off the bench. The only member of Hansi Flick's squad to have lifted the trophy for another side is Thiago Alcântara, who was a part of Barcelona's 2010/11 squad. If they are victorious again this year they will become only the second club to have won two trebles, drawing level with Barcelona.
Barcelona
The Blaugrana have won four Champions League titles in the last 15 years and club captain Lionel Messi has been a part of the squad for all of them, his first coming at the age of just 18. He is one short of Cristiano Ronaldo's five Champions League triumphs and would love to draw level with the former Real Madrid player. Gerard Pique has also picked up four winners' medals; three with Barcelona and one during his spell at Manchester United. Sergio Busquets looks likely to be fit enough to return for the game against Bayern and the three-time European champion will bring a wealth of experience to the Barcelona midfield. Sergi Roberto has been a part of two Champions League-winning squads, while Jordi Alba, Ivan Rakitic and Luis Suárez all played starring roles in the club's most recent European success.