Coronavirus Africa news summary: Saturday 15 August
Coronavirus Africa live: latest news - Saturday 15 August
Africa Covid-19 update: 01:45 WAT on Sunday 16 August (02:45 CEST)
Latest figures published by Johns Hopkins University
Worldwide
Cases: 21,359,166
Deaths: 768,952
Recoveries: 13,362,300
South Africa
Cases: 583,653
Deaths: 11,677
Egypt
Cases: 96,336
Deaths: 5,141
Nigeria
Cases: 48,770
Deaths: 974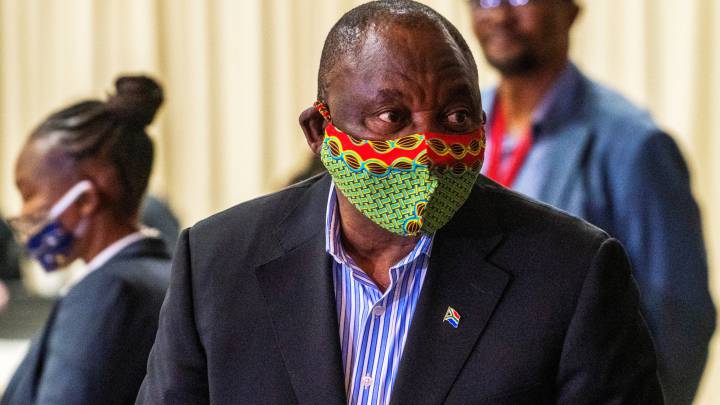 Jails in Egypt opened for family visits
After being closed for the pandemic, the restrictions are now being lifted, with conditions.
Omotola Jalade-Ekeinde tests positive
Nollywood actress, Omotola Jalade-Ekeinde, has revealed that she tested positive to the deadly coronavirus disease.
The actress, who disclosed this via her Instagram account on Saturday evening, said she's been ill and in isolation but she's currently getting better.
She also expressed how sad she felt about the death of the Nigerian youths being crushed daily by trailers or containers on the road.
She said" Hello all, I know most of you have been wondering where I have been.
"Well, I contracted COVID-19, I have been ill in Isolation and now getting better.
"I will be releasing more details on this soon.
Congo's central bank makes huge rate hike to 18.5%
The central bank of the Democratic Republic of Congo has raised the main interest rate to 18.5% from 7.5%, central bank official Plante Kibadhi said on Saturday.
The regulator had lowered the rate from 9% in March in order to cushion the economy from the impact of the coronavirus pandemic, following similar actions by African central banks as the virus spread across the continent.
Update: President Ramaphosa
South African President Cyril Ramaphosa said on Saturday that all indications were that South Africa had reached the peak of Covid-19 infections, as he announced a sweeping removal of lockdown restrictions on the economy.
In a televised address, Ramaphosa said the government would end the ban on alcohol and tobacco, allow restaurants and taverns to return to normal business, subject to strict hygiene regulations, and remove the ban on travel between provinces. He said a fall in the infection rates, as well as people recovering, were 'significantly reducing the pressure on our health facilities', but he cautioned that cases could easily surge if people fail to maintain vigilance.
Restrictions on international travel remained in place, he said. South Africa has more than half a million cases, but the rate of infections has declined over the past two weeks.
SA President Cyril Ramaphosa addresses nation
"Fewer people are presenting with symptoms at our health facilities. We are also finding that fewer people are requiring admission in our hospitals and the demand for coronavirus tests has dropped."
Casino workers' union wants businesses reopened
The casino employees' union has written to Interior Cabinet Secretary Fred Matiang'i asking him to allow them to reopen their businesses with strict adherence to rules for containing the coronavirus.
"We are requesting the CS to consider reopening our businesses to enable us earn a living," said Chairman Mark Wanyanga, noting the industry has employed more than 10,000 people who take direct or indirect care of at least 30,000 others.
Africa at a glance
The attached graphic gives a quick overview of the coronavirus spread across the continent.
Equatorial Guinea's government and prime minister resign
(Reuters) The government and prime minister of Equatorial Guinea tendered their resignation on Friday to President Teodoro Obiang, who said they had not done enough to help the country at a time of crisis, authorities said in a statement.
The Central African oil producer is suffering a double economic shock linked to the coronavirus pandemic and a drop in the price of crude, which provides around three-quarters of state revenue.
"The head of state regretted that the outgoing government did not fulfil its policy objectives, which undoubtedly led to this crisis situation," a statement on the government website said.
South African President Cyril Ramaphosa will address the nation at 20:00 on Saturday evening on developments in the country's risk-adjusted strategy to manage the spread of Covid-19, the Presidency has announced.
Children stand in their social distancing squares after arriving at school while wearing protective clothing in the form of masks and face shields as part of their safety due to the Covid-19 pandemic. Johannesburg, South Africa, 13 August 2020.
Tunisia's economy contracts amid pandemic
Tunisia's tourism-dependent economy shrank 21.6% in the second quarter of 2020, compared to the same period last year, due to the coronavirus crisis, the state statistics institute said on Saturday.
Unemployment rose to 18% in the second quarter.
The government ended all restrictions on movement and businesses and opened its sea, land and air borders on 27 June. However, the pandemic is hammering the tourism sector, which contributes nearly 10% of gross domestic product and is a key source of foreign currency.
Tourism revenue in the first six months of this year fell by more than 50% from the same period of 2019 as western tourists deserted Tunisia's hotels and resorts.
(Text: Reuters)
How Africa's Covid-19 response has developed since first case
In this video, the World Health Organization (WHO) takes a look at some of the ways Africa's response to the coronavirus has progressed in the six months since the first case of Covid-19 was registered on the continent:
Nigeria unemployment hits 27.1%
With the Nigerian economy hit hard by the financial impact of the coronavirus pandemic, unemployment in the country reached 27.1% in the second quarter of 2020, the National Bureau of Statistics says, per All Africa.
A priest wearing a face mask speaks during a memorial service in Nairobi, Kenya. The country has continued to witness an increase in coronavirus cases, with new figures as of Saturday 15 August being 29,334 confirmed cases and 465 deaths.
(Photo: EFE/EPA/Daniel Irungu)
Lockdown in SA leads to far lower crime rate
Crime figures in locked-down South Africa plummeted by 40% between April and June, according to official figures.
The country's police minister, Bheki Cele, said on Friday that the figures "paint a never-seen-before 'rosy' picture of a peaceful South Africa experiencing a 'crime holiday'", per the BBC.
Cele added: "These statistics show major decreases in all crime categories compared to the same comparative period last year. A 40.4% decrease in the number of rape cases were reported during the three months."
Coronavirus live Africa updates: welcome
Hello and welcome to our live, Africa-focused coverage of the coronavirus pandemic, which as of 07:40 WAT on Saturday had registered over 21.1m cases and nearly 764,700 deaths worldwide, according to data compiled by Johns Hopkins University.