Qatar 2022: Félix Sánchez faces challenge amid Covid-19 crisis
The coronavirus pandemic has forced Qatar coach Sánchez back to the drawing board as he readies his team for the FIFA World Cup in 2022.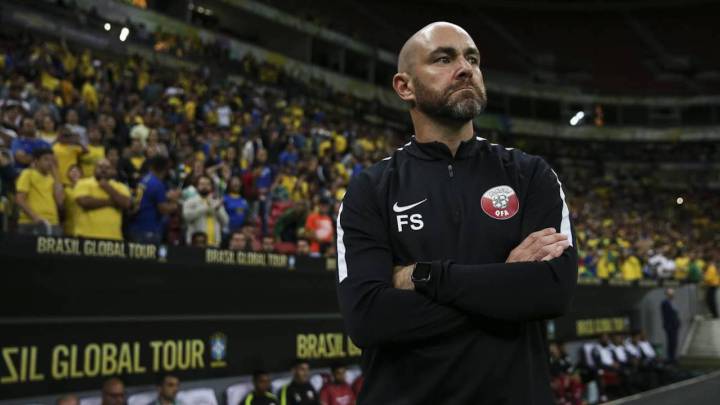 The Spanish coach of the Qatar national team, Félix Sánchez, is tasked with overcoming the challenging circumstances of the coronavirus pandemic and continuing to work towards readying a team capable of achieving its goals when the country hosts the FIFA World Cup in 2022 - the first time the tournament will be held in the Middle East.
World Cup, Asian Cup qualifiers postponed due to Covid-19
Sánchez is exploring the best available methods of preparing the team in the current situation, particularly in the wake of the Asian Football Confederation's decision to postpone qualifiers for the World Cup and the AFC Asian Cup in China in 2023. Sánchez has been forced into a complete rethink of his plans, as he bids to devise a working programme that enables the side to effectively carry on its preparations for Qatar 2022 amid the pandemic.
However, Sánchez is remaining calm despite the situation, and is focusing on keeping a close eye on the Qatar Stars League to both monitor the progress of his current internationals and scout new players to call up to the squad. He will do the same in the forthcoming AFC Champions League western region matches in Doha, which are to feature Al-Sadd and Al-Duhail, two Qatari sides who contribute a large number of players to the national team.
Meanwhile, he will take advantage of any breaks in the league schedule to set up a team training camp in the Qatari capital, much like the meet-up he organised six weeks before the league resumed in late July.
Qatar also preparing for Copa América appearance in 2021
Sánchez must also get Qatar ready for the Copa América in June and July 2021, ahead of what will be their second guest appearance at the tournament. CONMEBOL, South American football's governing body, also invited the team to take part in 2019. Originally scheduled for 2020, the Copa América was postponed due to the Covid-19 crisis. For the first time, it is to be staged in two countries, with Argentina and Colombia the joint hosts.
Qatar have been drawn in Group B, together with Brazil, Colombia, Ecuador, Peru and Venezuela. The section's fixtures will all be held in Colombia. Group A, which will be played in Argentina, features the Albiceleste, Chile, Paraguay, Uruguay, Bolivia and Australia.