James: I wanted to leave but Real Madrid didn't let me go
The Colombian midfielder has spoken of his desire to leave Real Madrid last summer, a move which could now happen, with the Premier League his preferred destination.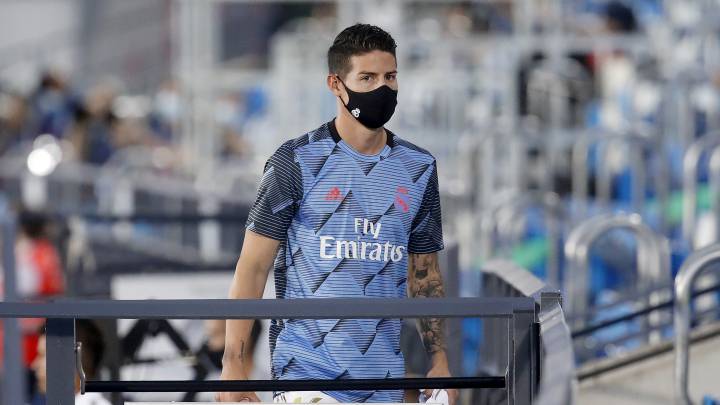 After a superb first season in which he provided 17 goals and 18 assists, few would have expected that, five years later, James Rodríguez would find himself in the situation he is currently in.
The Colombian played just 78 minutes (against Real Sociedad on June 21) in LaLiga following the 1-0 defeat to Mallorca at the end of October. After Real Madrid blocked his departure last summer, James played a total of just 758 minutes over 14 games this season. But with his contract due to expire next year, Madrid will likely look to cash in on the out-of-favour midfielder this summer.
James recently discussed this and more in a podcast interview with well-known Mexican motivational speakers and influencer, Daniel Habif.
James Rodriguez on his Real Madrid situation
Future: "I too would like to know where I am going. It may take days or weeks until I know where I am going. I really don't know. I want to go where I can play, where I am happy and where I feel wanted by everyone."
Lack of game time: "It is frustrating not to play. I know that I have the conditions to be playing all the time. But because of other people I cannot do so, so it is frustrating. If I were a bad player I would accept it, but I am a person who wants to win and always play."
Relationship with Zinedine Zidane: "People have tastes. He has his own tastes for some players and he is respectful. I won't get involved there. When you see that you don't get the same opportunities as your teammates, it's difficult. I wanted to leave and the club wouldn't let me go... I wanted to go where I could have played; I knew that I would not have opportunities, because Zidane already had his base in place. My wish was for the fans to have the memory of my previous stage at Madrid, not this one ... I scored 36 goals and 42 assists."
Thoughts about this season: "It is one of the biggest disappointments of my career, but thank God I am young and I have years ahead of me to be happy."
Possible destinations: "I've already been in several good leagues and the only ones missing are Serie A and the Premier League, I have to see where I want to go or where they want me to go. Going to England would be a good thing, it's a top league."
Signing for Real Madrid: "I was at the World Cup (2014), just before the third game against Japan. There they told me that Madrid wanted to talk. Jorge Mendes told me not to talk to anyone, don't lose focus, don't think about anything other than World Cup ... And against Japan I had an incredible game. Then he (Mendes) called me and told me that he thought it was going to happen, but to focus on the second round. Then I played against Uruguay and it was incredible, I scored two goals. After that, we closed the contract."
Ideal team: "There are so many good players that I have many in each position. But hey, my three forwards would be Maradona, fat Ronaldo (Nazario) and Pelé. And as goalkeeper, I don't know now ... I played with a spectacular one, which is Neuer."