Liverpool: Klopp confirms current contract will be his last
Liverpool boss Jürgen Klopp says he intends to take some time out after his current deal finishes and hinted that he may not return to the game.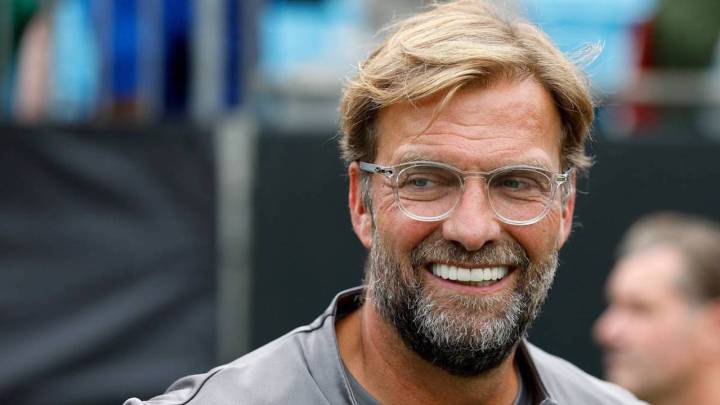 Jürgen Klopp's five-year tenure at Liverpool has delivered the long-awaited Premier League title but he has today confirmed plans to leave at the end of his current contract. The Anfield boss is tied to the club until 2024 and in an interview released today reveals that he has no plans to extend beyond then.
Klopp to take year off at end of Liverpool deal
"I'll take a year off and ask myself if I miss football. If I say no, then that will be the end of Coach Jürgen Klopp," the Liverpool boss told Sport Buzzer, after being asked about his plans for the future. He added: "If one day I am no longer a coach, there is one thing I will not miss: the brutal tension immediately before the game."
Some Liverpool fans will be disappointed to hear that Klopp's reign will not quite reach a full decade, having joined the club in October 2015. However, the life of an elite manager is now particularly punishing due to the enormous pressure and intense media coverage that it brings.
Speaking to the club website from the Reds' pre-season training camp in Salzburg, Klopp seemed enthusiastic ahead of the new campaign. "That's the best part of my job, to be honest," he said. "I'm surrounded by people I really, really like… It's like meeting friends again if it's players, if it's you all, it's just nice to come back and do what we are actually all best in."
Klopp's personality and the positive atmosphere that he cultivates has been central to his success on Merseyside and the importance of his presence around the club cannot be overstated. Yet with four years remaining on his current deal, his eventual departure should not concern Liverpool fans just yet.
Managerial sabbaticals increasingly common
Such are the demands placed on top-level managers in the modern game that many are now choosing to take breaks between clubs, to give them the time off that they simply are not granted usually. Managers of Klopp's level will not be short of job offers whenever they do decide to return and his plan to take a year out is fairly common.
Guardiola, Zidane...
His Premier League rival, Pep Guardiola, did the same after leaving Barcelona in 2012 to help him unwind after an emotional few years. The Spaniard moved to New York for a year's sabbatical, where he became close friends with former world chess champion Garry Kasparov, who he credits as an inspiration in his post-Barça coaching career.
In his final press conference at the Camp Nou, Guardiola famously said: "Four years at Barcelona is an eternity", hinting at the extreme pressure that comes with top-level jobs.
At Real Madrid, another club legend decided to end his incredibly successful managerial spell for similar reasons. Zinedine Zidane had won three Champions Leagues in three seasons at the club but announced that he was leaving in 2018, saying: "After three years, I think it's time to leave, it's difficult to continue coaching after that length of time."
The Frenchman was linked with a number of other top jobs including Manchester United and a lucrative position with the Qatari national side, but after a ten-month break from coaching he returned to the Santiago Bernabéu.
In his first press-conference back in the hot seat, Zidane said: "I'm very happy to be back home. I've recharged my batteries and now I'm ready again. I want to return to work and put the club back where it belongs."