Reguilón: "I've no idea where I'll be playing next season"
The Sevilla left-back, who is on loan from Real Madrid, will bring to an end a great season in the Europa League final: "We'll weigh up all of the options".
Sergio Reguilón is nearing the end of a brilliant season on loan at Sevilla, with a goal and an assist in the final stages of the Europa League in Germany along with some fine performances. The left-back, who is due to return to parent club Real Madrid later this month, says he still does not know where he will be playing next season - despite having a host of offers: "Even I don't know where I'll be, I have no idea. We will need to weigh up all of the options that we have on the table," the defender told Muchodeporte.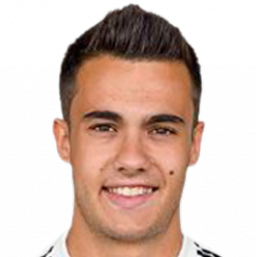 Reguilón has hit peak form just at the most decisive part of the season: "I try to do the best I possibly can. I think running and my speed are my two best qualities. You go through different moments over the course of the season and now could be the moment when everything is turning out right for me. We hope it continues that way in the final," he added.
As for Friday's Europa League final against Inter Milan, Reguilón said: "To get to the final you need to do a lot of things well and very few things badly; Inter is a very balanced side, it's going to be a hard-fought final. But we met Roma who had gone eight games without defeat and we beat them easily - you can't judge a team on only game alone. It's going to be a game played at a high rhythm and I think to single out one player from Inter would be a mistake, although Lautaro and Lukaku are both fantastic.
I wish the fans were here with us - Reguilón
"The mood within our squad is amazing. The secret to our success lies with every player who is in the squad here in Germany. We're more than a team - the word family is used quite a lot but that is what we are like. It's just a shame that I couldn't enjoy this final stage of the tournament or the derby against Betis with our fans behind us, that's a pity," the defender continued.
"The club's ambition, and the players', is to bring the trophy home. United were a brilliant team, they really gave us a tough time, no other team has created as many chances against us this season. Suso told me to play the ball ahead of him so that's what I did; when you do something and it turns out well, it makes you feel really happy," he ended.