3
Luuk de Jong 11', 32',
Lukaku 73' (pp)


2
Sevilla crowned Europa League champions for the sixth time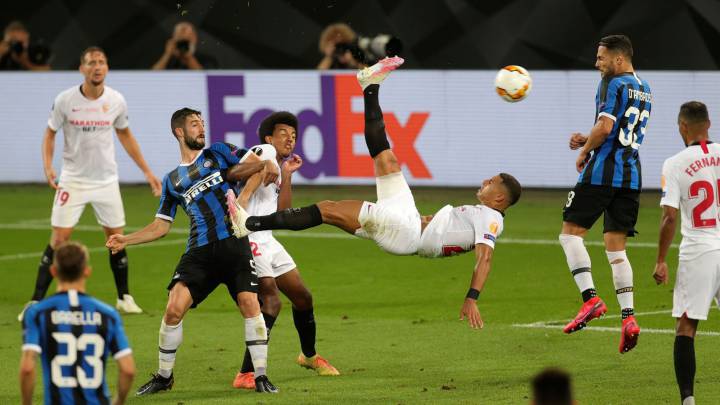 Sevilla vs Inter Milan: live updates
Sevilla's love affair with the Europa League lived on after they beat Inter Milan 3-2 in a thrilling final behind closed doors on Friday in Cologne to win the trophy for a record-extending sixth time.
Defender Diego Carlos, wearing a bandage on his leg, struck the decisive goal in the 74th minute with an overhead kick which took a huge deflection off Inter forward Romelu Lukaku.
There was added intrigue as Diego Carlos looked to have denied Lukaku a clear scoring chance when he fouled the Belgian in the fourth minute, with Lukaku dusting himself off to fire Inter into the lead while scoring his 34th goal of the season.
Sevilla soon equalised with a header through Luuk de Jong then the Dutchman struck again with a header to give his side the lead in the 33rd minute, only for Inter defender Diego Godin to also score a header moments later to make it 2-2. The match was played without any fans in attendance due to the COVID-19 pandemic. (Reporting by Richard Martin)
Sevilla finals wins:
2006: 4-0 against Middlesborough
2007: 2-2 against Espanyol (Sevilla win on pens)
2014: 0-0 against Benfica (Sevilla win on pens)
2015 3-2 against Dnipro Dnipropetrovsk
2016: 3-1 against Liverpool
2020: 3-2 against Inter Milab
Peep, peep, peep!!! Sevilla win their sixth Europa League final, and their fourth in seven years!!
Two minutes to go with Sevilla in possession in Inter's third.
Inter have a corner, Eriksen takes, but Sevilla clear. And again Inter have given away a free kick when they need the ball at their feet.
Inter have six minutes of added time to find an equaliser!
Inter not helping themselves with a succession of fouls that allow Sevilla to play down the clock.
Two changes for Sevilla: De Jong off for En Nesyri. Gudelj comes on for bicycle kick hero, Diego Carlos.
Inter have ten minutes plus added time to respond. Eriksen and Victor Moses have come on for the Serie A side, and both have had chances in quick succession.
Goal Sevilla!!! Diego Carlos has chanelled his inner Bale to drive an outrageous bicycle kick passed Handanovic. The central defender latched onto a poor headed clearence from a free kick set piece, and was in yards of space as he lined himself for the overhead kick by the penalty spot. Inter's defenders can only look on as the ball is deflected off Lukaku into the right corner.
Inter whip in the free-kick from the left, and Bono does well to punch the ball away under fierce aerial pressure from two or three Inter players.
Change for Sevilla: Ocampos, Sevilla's top scorer this season with 14, makes way for Munir.
Chance Inter! Lukaku is released suddenly in space and bursts fowards towards the penalty area with Sevilla defenders trailing behind him.
He's one on one with the keeper but Bono makes himself big to stop the shot. The Inter striker has barely touched the ball in this second half, but that's how quickly things can happen with him on the pitch.
Lucas Ocampos tries from distance but drives the ball high and over. Sevilla need better from him than that.
Chance Sevilla! Reguilon drifts in from the left, then cuts left to beat the Inter defender before driving a shot into the side netting by the near post. Nicely worked by the Sevilla full back.
Bastoni goes in the book for a niggly challenge on Suso close to the halfway line. Needless.
Inter spring to life and Gagliardini shoots from a deflected cross. But his shot is blocked on route as Sevilla scrambled to regain their shape following the initial cross.
Not much to report from the opening five minutes of this second half. Sevilla have had more possession. Neither side has created anything significant.
Peep!! Second half underway!
The teams are back on the field and Sevilla will get the second half underway. No changes from neither side.
Well the game has certainly lived up to the billing so far. It's been a physical, fiercely fought battle between two sides who have both created plenty of chances, scoring two each to set-up what should be an entertaining second half.
Well the game has certainly lived up to the billing so far. It's been a physical, fiercely fought battle between two sides who have both created plenty of chances, scoring two each to set-up what should be an entertaining second half.
Peep, peep! The ref blow for half time with the score at 2-2. Lukaku opened the scoring with a penalty, before Luuk de Jong scored twice with his head to give Sevilla a 2-1 lead. But three minutes after his second 33' goal, Inter scored through Godín to even things up again.
Chance Sevilla!! Ocampos gets his head on the end of another well delivered free kick from Banega on the right. Bono tips the ball over the bar and Sevilla will not get the corner because the ref has whistled for half time.
A few quieter minutes after that four-goal thriller in the opening 37 mintues. One minute to be added on.
Goal Inter!!! The Serie A side respond immediately from a set piece in a similar position to that of Sevilla just moments earlier. Brozovic delivers are dangerous cross into the box and Diego Godín jumps high to drive his header passed Bono. 2-2!
Goal Sevilla!!! It's De Jong again with his head!!! The free kick delivery comes in and the Dutchman outjumps Bastoni by the corner of the six yard box and sends a looping header over the keeper into the far corner.
Banega delivers a freekick into the box, but Ocampos can only drive his header way over the bar.
Another foul by D'Ambroiso, this time on Fernando as Sevilla tried to work the ball out of their half. That's his third offence and he's already in the book. The Italian defender needs to be careful now.
Sevilla's Ocampos tries one from distance on the left, but the ball hits the side netting.
Blatat foul on Ocampos by D'Ambroisio as the Sevilla player is bodychecked as he tried to round the Inter player on the left flank.
Sevilla can do nothing with the free kick, and Inter quickly break through Lautaro. The Argentinean striker loses the ball in the box and Sevilla are back in possession.
Claims for an Inter penalty as Reguilon handles in the box. The ref though it was accidental and waves the claims away. Conte is furious and has recieved a yellow card for his angry protests. Including the Inter coach, that's the third booking in 16 minutes of play.
Goal Sevilla!!! Goal Luuk de Jong!! Some stellar link-up play down the right ends with a pinpoint Navas cross, which De Jong has expertly placed in the net with his head from 10 yards out. He was chosen to start ahead of En-Nesyri after scoring the winner against Man Utd and the decision has paid off for Lopetegui. That's the Dutchman's seventh goal of the season.
Diego Carlos tries an ambitious bicycle kick from the corner. But it's poorly hit.
Things have quietened down after a frantic opening four minutes. Sevilla trying to gain some control as they push forward and they've won a corner.
Goal Lukaku!!! Bono dives the right way but can't stop Lukaku's penalty strike, which is drilled into the bottom left corner. That's his seventh goal in six Europa League games.
Penatly for Inter! Inter clear their lines after some Sevilla pressure, finding Lukaku with a long ball. The Inter striker was manhandled to the ground by Diego Carlos in the box. Carlos goes in the book.
Reguilon is fouled again within the first minute, and Sevilla's players are furious. D'Ambrosio caught him with an elbow and he goes in the book.
Inter immediately in hard on Sergio Reguilon, and Sevilla have a free kick.
Peep! Inter get the game underway.
Teams on the pitch
The players have emerged from the tunnel, not one of them glancing at the trophy as they walk passed it. Sevilla are in white, Inter in their black-blue stripes.
Lukaku-Kounde battle
"Physically I'm curious to see how Jules Kounde handles Romelu Lukaku," says ESPN correspondent Matteo Bonetti.
"Lukaku has been playing bully ball with everyone this season and weighs about 50 pounds more than Kounde."

De Jong starts ahead of En-Nesyri
Julen Lopetegui has opted to start with Luuk de Jong over Youssef En-Nesyri in attack after the Dutchman's winner against Manchester United in the semi-final. (Photo: Reuters).

Pope John Paul shouting for Sevilla
The statue of Pope John Paul in Cologne has been decorated with a Sevilla scarf. The deceased Pope was a big football fan, though was quite loose with his allegiance, as this Guardian report highlighted.
"Throughout his long and pious life, Pope John Paul II worshipped only one god. But when it came to football teams, he was much freer with his affections. For the pontiff, a handy goalkeeper in his youth, had ties to at least six sides - including Liverpool, Barcelona and Fulham."

Inter fans show their support in Cologne
Photo: Inter Milan fans holding a placard reading 'Always at your side' cheer outside the stadium prior to the UEFA Europa League final football match Sevilla v Inter Milan on August 21, 2020 in Cologne, western Germany. (Photo by Martin Meissner / POOL / AFP)
Sevilla aim for title #6
Despite coming into the game as the less fancied side, Sevilla will be anxious to spring another surprise in a competition where the Andalusian side excel. The win over Manchester United in the semi-final was possibly the club's finest night of the season albeit with a stroke of good fortune.
In securing their ticket to the final as United out-shot Sevilla 20 to nine and forced goalkeeper Bono into several crucial saves to keep the LaLiga side in the tie.

Lukaku and Lautaro: 54 goals this season
After a poor stint at Manchester United, Lukaku has found a new lease of life at Inter alongside Lautaro Martinez.
The pair have formed one of the most formidable strike partnerships in Europe, netting a combined total of 54 goals this season. Sevilla will have their work cut out in keeping this front pairing scoreless tonight. (Photo: Reuters).
Inter announce starting XI:
Inter XI: Handanovic, Godin, De Vrij, Bastoni, D'Ambrosio, Barella, Brozovic, Gagliardini, Young, Lukaku, Lautaro.
Sevilla teamsheet is in
Sevilla XI: Bono - Jesús Navas, Koundé, Diego Carlos, Reguilón - Fernando, Jordán, Banega, Ocampos, Suso - De Jong.
"Nobody wants it like we do"
The home dressing room in Cologne has been adorned with the slogan: "Nobody wants it like we do". Considering they've won the competition three times in the previous six years, that is perhaps the case for Sevilla.
What the managers said
Julen Lopetegui (Sevilla) and Antonio Conte (Inter) have both reached the EL final in their first season in charge of their respective clubs, both of which have already secured Champions League spots for next season.
Inter finished second behind Juventus in Serie A, while Sevilla landed fourth spot in Spain, meaing they will have to make it through the preliminary UCL qualifying rounds. Here's what both managers had to say before tonight's game:
Lopetegui: "Inter are team full of world-class players, but we are excited about the final and determined to put in a great performance...We will have to play to our strengths and be a team that works hard for each other as well as a reliable one that plays as it knows how. Our opponents will ensure we will have to be at our very best."
Conte: "We should be very proud of reaching a final after 10 years but we have to remember that only the winner goes down in history... I played many finals as a player, I won one Champions League final but lost three and I've realised that only the winner is remembered, so that should give us extra motivation."
AS Preview
Antonio Conte's Nerazzurri dropped out of the Champions League but have looked impressive in 2020, spearheaded by the fearsome attacking duo of Romelu Lukaku and Lautaro Martinez.
That said, Inter have only beaten Spanish opposition once in their past 12 attempts, their previous victory coming in a Champions League semi-final against Barcelona 10 years ago. Check out of full preview below...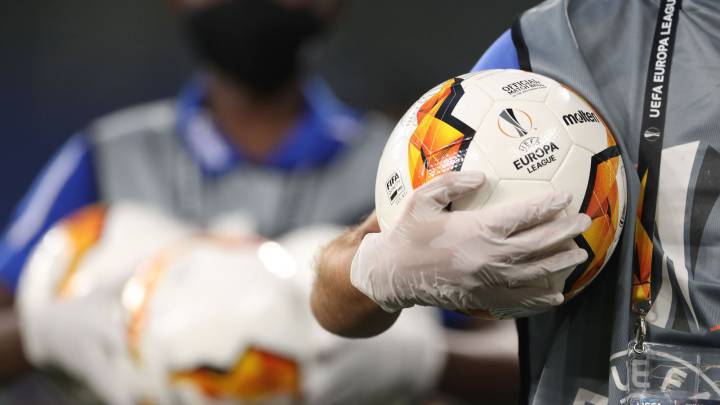 First meeting between Sevilla and Inter
This will be the first meeting between the two sides in European competition. It will be Sevilla's fourth EL final in seven years. In total they've reached the final on five occasions, winning all five to make them the most successful club in history of the competition.
Inter's last European final came in the Champions League in 2010 where, under the charge of Jose Mourinho, they beat Bayern Munich 2-0. Their last UEFA Cup final came in 1998. They beat Lazio 3-0.
Welcome
Hello and welcome to our live coverage of the Europa League final between Sevilla Inter Milan. The game kicks off in an hour, so in the meantime you can follow the build-up with us here. Team news to follow shortly!
.