Coronavirus Africa: news summary for 24 August
Coronavirus Africa: latest updates - 24 August
Africa Covid-19 update: 02:30 WAT on Tuesday 25 August (03:30 CEST)
Latest figures published by Johns Hopkins University.
Worldwide
Cases: 23,566,502
Deaths: 811,409
Recoveries: 15,248,348
South Africa
Cases: 611,450
Deaths: 13,159
Egypt
Cases: 97,478
Deaths: 5,280
Nigeria
Cases: 52,548
Deaths: 1,004
Student tests positive for Covid-19 in A'Ibom
The governor said the student was asymptomatic, adding that he took normal precautions to avoid spread. He also said, however, that the state government had begun random testing of students for the virus in secondary schools across the state.
"We have tested over 100 students and it is only one young man that tested positive for Covid-19 in the state," the governor said.
"We did what we ought to do medically; I want to believe that by now, the young man should be okay," he said.
The governor said that he had put in place, modalities to ensure that the student did not miss out on anything from the class.
SA sees economy crumble amid pandemic
Bloomberg look at the challenges being faced by President Cyril Ramaphosa.
Covid-19 puts Sierra Leone's expectant mothers at further risk
Binta Kamara, a nurse at the Kabala government hospital in northern Sierra Leone, says patient turnout is a problem.
"Patients are refusing to come to hospital. We have to go out in surrounding homes to encourage them to visit health centres. Before the virus, we used to get close to 100% turnout, but now, we're struggling to hit 50%."
Misinformation plays a significant role in this, Kamara says. "There is lots of information flowing on social media and many of these [stories] are fake news. It makes people fearful of health facilities."
Congo Covid-19 update
Two hundred new Covid-19 cases were identified out of 4,759 samples tested today. This brings the cumulative number of confirmed cases to 3,089. To date, 1,755 patients have recovered and been discharged, including one in the past 24 hours. The number of active cases is 1,322 and 12 deaths. The latest fatality is a 71-year-old Rwandan.
The new cases are in Kigali (164) from mass testing in Kigali markets, Rusizi (29) testing in high-risk groups, Rubavu (5), Huye (2); heightened vigilance is required everywhere. All active cases are in isolation in stable condition.
NICD says it will be difficult to predict a second wave of Covid-19
The National Institute for Communicable Diseases (NICD) said South Africa's infection rate has entered a downward spiral. It said there are no signs there will be a surge due to the easing of lockdown regulations.
South Africa, with 609,773 confirmed cases, has the fifth-highest number of Covid-19 cases in the world and has reported thousands of cases daily, since May. The institute also said it's difficult to predict if there will be a second wave. It said South Africa's Covid-19 'R-Naught' number is down to 1.1. In March, three people were at risk for every case, this moved to five by the end of April.
Nairobi informal area businesses feel Covid pinch
More than 80 percent of retailers in Nairobi's informal settlements reported demand and supply challenges last month amid supply chain disruptions caused by Covid-19, according to a recent study, Business Insider reports.
Geneva-based think tank Latest Impact Initiatives believes a majority of retailers attribute the disruption to an increase in prices of items (53%) and decrease in demand for commodities (46%). Other reasons include lack of money to restock (33%), a lack of commodities from suppliers (20%) and Covid-19 movement restrictions (eight percent)," the study said.
Covid-19 situation escalating in Uganda
Uganda's Minister of Health Ruth Aceng admitted that the Covid-19 situation in the country is "rapidly changing" and has asked the government and scientists to reconsider their strategy.
Over the weekend, Uganda recorded its highest number of single-day cases after several inmates at a prison tested positive for the virus. The country recorded 318 cases, the highest daily number since the index case was registered on 21 March.
"The Covid-19 situation is rapidly changing in Uganda. Covid-19 is real, it's highly infectious and it kills. It's our responsibility to stop this catastrophe," Aceng said.
WHO says 172 countries engaging with global Covid-19 vaccine plan
Some 172 countries are engaging with the WHO-led COVAX plan designed to ensure equitable access to Covid-19 vaccines, the World Health Organization said on Monday, but more funding is urgently needed and countries should now make binding commitments. "Initially, when there will be limited supply (of Covid-19 vaccines), it's important to provide the vaccine to those at highest risk around the globe," the WHO's director general Tedros Adhanom Ghebreyesus told a media briefing.
WHO urges countries to join forces in vaccine plan
The World Health Organization has urged countries to join its plan to ensure equitable access to Covid-19 vaccines so they can work together in a coordinated manner. Bruce Aylward, the WHO's emergencies chief, told a news briefing that "the critical thing is to ensure that some vaccine gets to all countries as early as possible".
Nigeria's economy shrank by 6.10% in Q2
The National Bureau of Statistics, in its GDP report announced on Monday that Nigeria's Gross Domestic Product fell by 6.10% (year-on-year) in real terms, during the second quarter of 2020.
It said the decline "was largely attributable to significantly lower levels of both domestic and international economic activity during the quarter, which resulted from nationwide shutdown efforts aimed at containing the COVID-19 pandemic. The domestic efforts ranged from initial restrictions of human and vehicular movement implemented in only a few states to a nationwide curfew, bans on domestic and international travel, closure of schools and markets etc., affecting both local and international trade. The efforts, led by both the Federal and State governments, evolved over the course of the quarter and persisted throughout".
Lagos State Commissioner for health tests positive for Covid-19
Lagos State Commissioner for Health Professor Akin Abayomi has tested positive for coronavirus. Information and Strategy Commissioner Gbenga Omotoso confirmed the news this morning on Twitter: "Subsequent to close contact with persons feeling unwell and testing positive for the COVID-19 infection, the Honorable Commissioner for Health, Prof. Akin Abayomi, has tested positive for the virus.
"Professor Abayomi became aware of his status following the required testing protocol of contact tracing procedures. However, he is doing well with no symptoms. Adhering to the protocol of the homebased strategy in Lagos State, the Honorable Commissioner will be isolating in his home for the next 14 days.
"But will continue to discharge his duties both as the Deputy Incident Commander of the Incident Command System for COVID-19 and most especially, as the Honorable Commissioner for Health.
"Our prayers are with him and his family during his period of isolation. Gbenga Omotoso Information and Strategy Commissioner".
Whistleblower lifts lid on winter tent deaths in South Africa
"Suspected Covid-19 patients were routinely left for hours in an open tent, in sub-zero temperatures, outside a South African hospital during the mid-winter peak of the pandemic, leading to "many" people dying of suspected hypothermia," says this exclusive report by the BBC, based on accounts by a doctor at Sebokeng Hospital.
Nigeria death toll reaches four figures
Nigeria reached a bleak milestone on Monday as the country passes 1,000 deaths from Covid-19. The death toll stands at 1,002 with 52,227 confirmed cases of the virus since the first infection was reported on 25 February.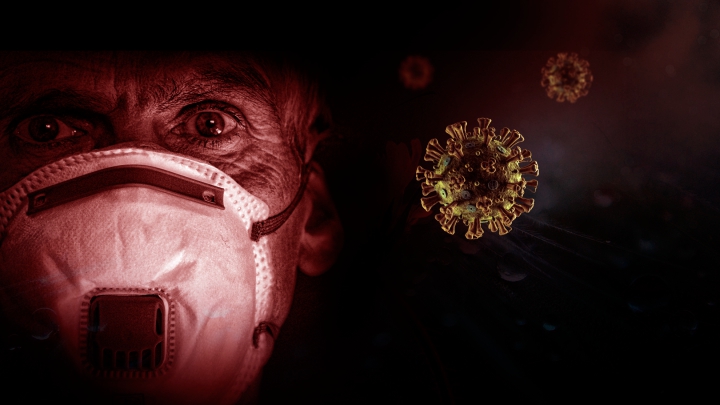 Good morning
Hello and welcome to AS' live coverage of the coronavirus in Africa. We'll be bringing you breaking news, reaction and the latest figures from the continent throughout the day, as well as the biggest coronavirus news from across the globe.