Alaba wore Black Lives Matter shirt during Champions League celebration
After Bayern Munich defeated PSG in the UEFA Champions League Final, David Alaba celebrated while wearing a Black Lives Matter shirt.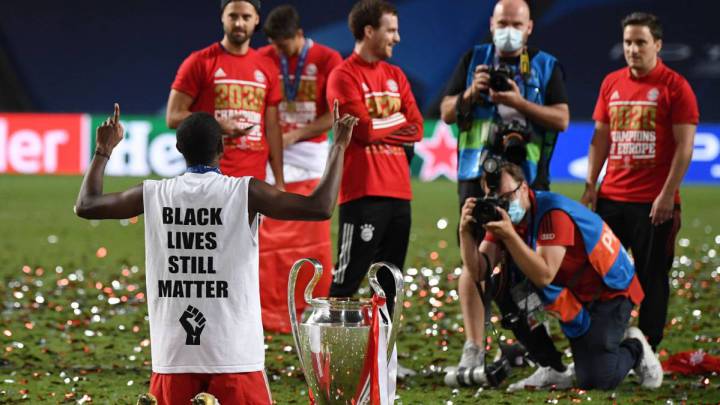 During the celebrations after Bayern Munich defeated PSG in the UEFA Champions League final in Lisbon, Bayern player David Alaba wore a 'Black Lives Still Matter' shirt while he knelt and looked up to the sky.
The defender also used his social media to publish the picture with the following message: "Everything is possible by the power of the Holy Ghost! Champions of Europe! Now we're finished. Black lives still matter."
BLM movement continues
Both the NBA and MLS in United States are continuously showing support for the 'Black Lives Matter' movement. For example in the NBA each player wears a black jersey during warmup and with a message of their own in support of the movement. The messages are also present on official jerseys and shoes ensuring the message continues to spread.

Various players in the MLS are now kneeling during the national anthem prior to the start of a game and the commissioner Don Garber has shown his support to players who peacefully protest. In other sports like F1 Mercedes driver Lewis Hamilton also kneels down prior to the beginning of the race and wears a black shirt with a 'Black Lives Matter' message.
There has been a wave of support for Black Lives Matter and protest over police brutality from the NBA in the wake of the shooting of Jacob Blake on Sunday.
21