TRANSFER TALK
Man City working on Messi signing within FFP framework
According to ESPN sources, the man who was integral in making Pep Guardiola's Barcelona one of the greatest sides ever, could join his manager in the Premier League.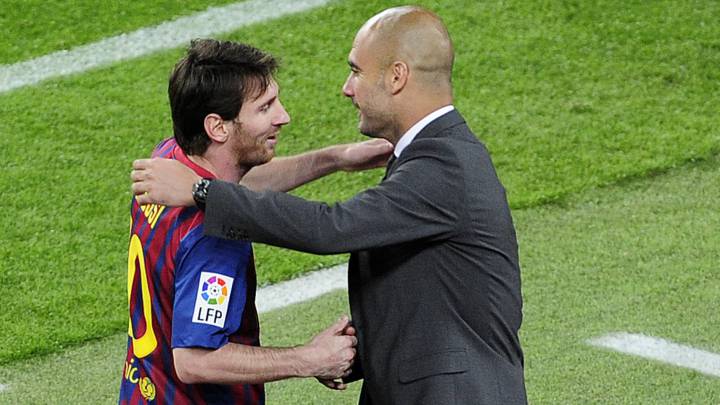 FC Barcelona's Lionel Messi understandably looked distraught following the 8-2 Champions League hammering at the hands of eventual winners Bayern Munich. In the days that followed that result, Ronald Koeman replaced Quique Setién in the hotseat and stories have emerged of which of the current first team will remain part of the Dutchman's plans. The Argentine has been the standout player at the club for a decade, but some suggest that now is the time he could leave.
Messi transfer? Man City count their pennies
According to ESPN sources, in a piece by Moises Llorens and Rodrigo Faez, Premier League club Manchester City may provide a home for the player many regard as the greatest to have ever graced a pitch. After overcoming their Financial Fair Play battle with UEFA, there appears to be a renewed focus on ensuring that no questions can be asked when it comes to balancing the books appropriately, and they are 'crunching the numbers' to see if the deal can be made.
City manager Pep Guardiola obviously knows Messi well having coached him as part of his magnificent Barça team prior to his spell at Bayern Munich before moving to England. As we have previously reported, knowing that the number 10 is out of contract in 2021, there are some at Camp Nou who believe it would be a sensible decision to cash in now on their star and invest that sizeable sum on creating more depth in the squad. That said, it will not be a simple transaction if it were to come to pass, but one that, at least, seems to be getting some thought by the bean counters in Manchester.
Most people that have been consulted on the matter - including PSG's Thomas Tuchel when asked - believe that Messi will remain at Barcelona, likely ending his career there. He has little else to prove in the game afterall. And with a €700 million buyout clause, and the backdrop of a post-coronavirus-pandemic economy, a move is made all the less likely.
More signings guaranteed says City chairman
Manchester City chairman Khaldoon Al Mubarak has confirmed the club intends to bring in further transfer market reinforcements as they aim to take back the Premier League title from Liverpool.
Pep Guardiola's side were unable to make it three domestic titles in a row in 2019-20, falling well short of a dominant Liverpool, who ended 18 points clear of second-placed City. Winger Ferran Torres and defender Nathan Ake have already arrived at the Etihad Stadium from Valencia and Bournemouth respectively, for a combined outlay in excess of £60million.
Speaking to his club's official website, Khaldoon said City would seek to strengthen further and would not limit themselves to younger players if readymade, experienced performers are what Guardiola requires.
"When it comes to the two acquisitions we've made – Ake and Ferran Torres – we moved quickly and clearly," he said. "These were our targets and when the opportunity came we were able to come in very quickly and swiftly and do that business

"There are additional players that we will be bringing in and we will stick to the plan, within the realities of the market that we live in today.
"If you look at the acquisitions we've made over the past couple of years, there's a consistency in terms of the type of player we've targeted – their age and quality.
"We will continue down that road for the first team in that 20-25 years old category. That's kind of the spot we like.
"But, at the same time, sometimes opportunities come up that fit with what the manager wants and what we need for the squad that might be outside of that box.
"Nothing is set in stone. We have a set of targets who are well defined but, at the same time we're pragmatic enough to take the opportunity if that opportunity comes up."
Those words chime with City being persistently linked to a move for Napoli's 29-year-old centre-back Kalidou Koulibaly, and those dreams of landing Messi.
Guardiola has been variously linked with further reinforcements in attack, central midfield and at left-back as City pick over a campaign that ended with their lacklustre 3-1 Champions League quarter-final defeat to Lyon. Khaldoon noted their failure to make an impression on the final stages of the tournament in Lisbon amounted to a significant opportunity missed.
"Me and Pep have something very important in common – we both hate losing and we don't take it lightly," he said of Champions League glory continuing to elude his club.
"On this, we have the same level of disappointment. We had a great opportunity this year, the same as the last couple of years.
"When it comes to the Champions League it is always challenging. It boils down to two games or, in the case of this season, one game and you have to deliver.
"We are upset with that result because we knew it was a great opportunity to go to the semi-finals and a great opportunity to actually win this competition.
"We have to be able to look back at this season, take the learnings, go back to the drawing board and make sure we are ready next year to give it another shot."