Without Messi and Suárez, Barça would see a 70% drop in goals
Messi and Suárez created 74 of the 110 goals which Barcelona scored in 2019-20. Since they started playing together, Messi has scored 280 goals, Suárez, 198.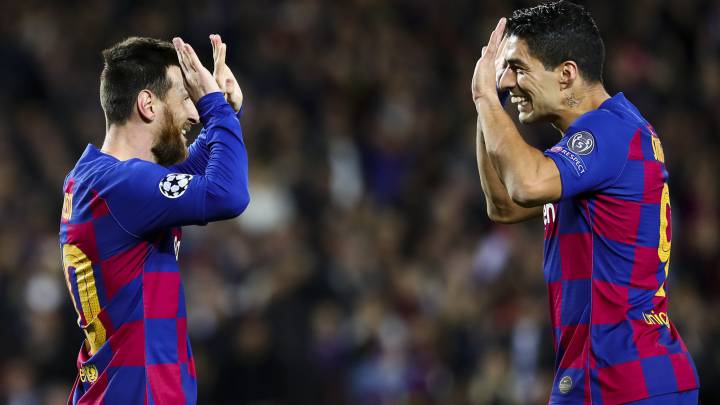 Barça finished last season scoring 110 goals in all official competitions and a significant amount of that total came from two players who look set to be leaving the club. In 2019-20, Leo Messi and Luis Suárez played a part in 74 of the team's goals, or 67.27%. Messi scored 31 goals and dished out 16 assists to team mates other than Suárez. Suárez meanwhile, ended the campaign on 21 goals and set up a further six for players other than Messi. Between them, they contributed 16 goals - the Argentinean teeing up Suárez for 10 of his goals, and the Uruguayan returning the favour with six assists.
Those stats will paint a worrying picture for the team if both players end up leaving. If Barça are serious about contesting the league title this season, they would have to bring in two or three forwards who between them, guarantee 50 to 60 goals. That will be anything but easy...
And those figures are the worst since Messi and Suárez have been playing together. During the six seasons in which they have led the Barça attack, Messi has scored 280 goals and Suárez, 198, figures which allowed him to knock the legendary Laslao Kubala off the podium of the club's all-time top goal scorers. In total, a combined 478 goals and 244 assists, yet last season was their least productive. Messi has gone from hitting 58 goals in 2014-15 to 31 last season. And Suárez, who ended a memorable 2015-16 campaign on 59 goals, which earned him the Golden Shoe, saw his personal tally drop to 25 in 2018-19 and 21 the season just gone by. Much of that has been down to his ongoing physical problems.
How can Barcelona replace Messi and
Suárez?
It means that Barça really need to resolve the situation involving Messi and Suárez because they need to raise cash to be able to replace them with two or three world class strikers - players who will be able to supply, or at least get near to, those 74 goals which Messi and Suárez brought to the team last season. Their situations are different however - while Suárez's number has been up for some time, Bartomeu will do what he can to prevent Messi from leaving the club.
Lautaro Martínez is the big candidate to strengthen Barça's attack ahead of the new season. He hit 21 goals in 49 official games last season. Barça would also need at least one other player with similar goal scoring attributes to the Argentinean to fill the void left by the departure of Suárez and Messi. And that would just be in terms of numbers - making up for everything else the pair give the team would be practically impossible.