Martin Ødegaard, Real Madrid's sole summer 'signing'
The Norwegian joins Madrid's first team squad five years after signing for the club. In that time, his market value has multiplied by 11, from 4 million euros to 45 million.
Just a few minutes into Real Madrid's first training session of the pre-season out on practice pitch No.1 in Valdebebas, all eyes were on a blond player who stood out, even while the rest of the squad were spread out to conform with Covid-19 protocol. "He's got the makings of a top player," commented one veteran member of staff, who remembers perfectly well when Martin Ødegaard had only just signed for the club and later when he became the youngest player to debut for Real Madrid in LaLiga under Carlo Ancelotti. That was in May 2015 when the Norwegian came on for Cristiano Ronaldo in a meeting with Getafe when he was 16 years and 156 days old. A lot has changed for Ødegaard since then. Five years ago he was a precocious youngster with a lot to prove. Today he is one of the most admired midfielders in LaLiga.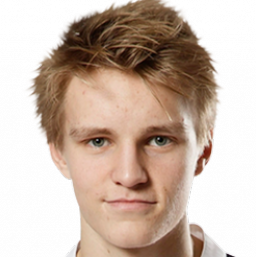 Market valued multiplied by 11
Now 21, Ødegaard has completed four full seasons playing in the elite - two with Heerenveen, one with Vitesse and one in Spain with Real Sociedad. It was out on the practice pitches in Zubieta where he found the perfect place to develop his game. He even would have liked another season out on loan at La Real, where he was given a high number of games (he made 36 appearances under Imanol Alguacil). But Madrid's plans were suddenly changed by the team's elimination from the Champions League and the coronavirus crisis. Now Zidane will manage the transition period as Modric gradually hands over the position and makes way for the young Norwegian.
Martin is ready for Madrid
"Ødegaard is almost like a robot; he's ready to play for Real Madrid," his old coach at Vitesse Leonid Slutski said recently. The midfielder has built up muscle tone  by following a strict training regime. This summer, while his team mates were relaxing on the beach, he was working out in the Sierra Nevada.