Napoli rubbish reports players have ice baths in dirty bins
After a photo of Napoli players having ice baths in rubbish bins was shared on social media, the club denied suggestions they were dirty.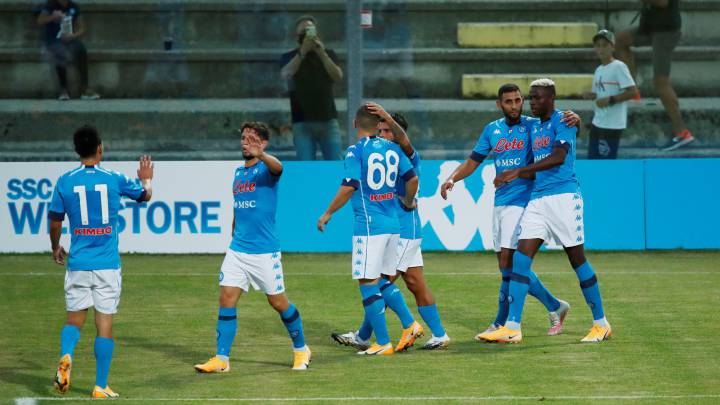 Napoli have denied their players undergo cryotherapy treatment in dirty rubbish bins. The Serie A club responded to the suggestion after a photo of players using tall bins for ice baths during a training session was shared on social media.
Napoli insisted it is common practice among elite clubs and, in addition, fulfils the requirements set out in measures to combat the spread of coronavirus.
"It's embarrassing how some sections of the media have reported the news that Napoli players have been undergoing cryotherapy in rubbish bins, without at least verifying the reasons behind this initiative and whether it was [head coach Gennaro] Gattuso's idea or a common practice," they posted on Twitter.
Napoli: "Was it Gattuso's idea? No"
As if Napoli have had to publicly address this!

It's a standard routine in hundreds, if not thousands, of clubs! The bins are used for this purpose, they aren't used bins pinched off the streets! They are beyond squeaky clean, posing no health risks whatsoever!

Just WOW 😂😂 pic.twitter.com/Lu9xhlgdX1

— SSC Nap⚽️li News (@SSCNapoliNews_) September 1, 2020
"We will do the work which hasn't been done, shall we? Question: why are you using bins? Because there is much more space and the players are submerged up to their waists. Also, bins are in line with the anti-Covid protocols as each player is submerged alone.
"Question: are the bins clean or dirty? Obviously, not only are they clean, but also new, unused and are sanitised three times a day.
"Question: are you the only club to use this method? No, many teams do.
"Question: so it wasn't Gattuso's idea? No."
Napoli finished seventh in Serie A and were knocked out of the Champions League in the last 16 last season but qualified for the 2020-21 Europa League by winning the Coppa Italia.