Real Madrid: The new Santiago Bernabéu is now able to stage matches
The new pitch has been completely relaid which means the stadium can hold football matches. Madrid's first home game is on 30 September, against Valladolid.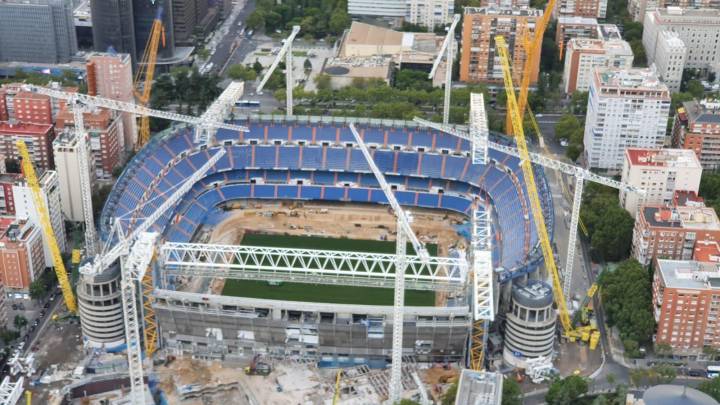 It's one of the images which Real Madrid fans have been waiting for - the pitch is now fully laid at the new Santiago Bernabéu. Ground Manager Paul Burgess and his dedicated team have laid the new turf in record time, which means that the stadium is now able to hold matches with the start of the new league season approaching. However, it is not the retractable pitch which will feature in the definitive project, rather a provisional installation which will allow Madrid to play home games at their own ground and not in Valdebebas while work continues in other parts of the stadium.
Madrid's LaLiga campaign to start in Week 2
The new turf will have plenty of time to take root and will be in perfect conditions when Zidane's team play their first home game. LaLiga gets underway on 11 September but Madrid, due to having played the Last 16 of the Champions League in August, have had less time to rest than other teams and started their pre-season earlier so for them, their campaign starts in Week 2 at the Reale Arena against Real Sociedad (Sunday 20 September, 21:00 CEST).
While the new pitch has been laid, other work needs to be completed before the Bernabéu can safely stage LaLiga games. Madrid's first home game is in Week 4 - their first game, against Getafe, has been postponed for a later date and the next two games are away from home (Real Sociedad and Betis). Madrid's first home league game is on 30 September when Valladolid visit and by then, the Bernabéu will be fully ready.
Inside the new
Bernabéu
🔴El Santiago Bernabéu ya tiene el CÉSPED al 100%.

🏟Césped de Ávila (Arévalo).
- Ha llegado en 20 camiones (10 sábado // 10 domingo). Cada camión transportó 32 rollos de césped mixto (total de 640 tiras en la alfombra del Real Madrid).https://t.co/Sve3UHfvqY pic.twitter.com/Oect7Vvowe

— Javier Caireta-Serra (@JavierCaireta) August 30, 2020
Journalist Javier Caireta-Serra has shared a few photographs of the stadium which give us a new look at how work is progressing on the inside. The new turf was sourced in Ávila was delivered by 20 lorries in two loads - each carrying 32 rolls of mixed turf making a total of 640 rolls.
The images also show the huge cranes working on the construction of the new roof and the upper sections of the stadium. Also visible are the trucks which bring in building materials for the new stands. The lower section of the stadium has been almost completely removed. Work continues at a brisk pace while the team prepares for official competition to start.