Premier League 2020/21 preview: Liverpool
The 2019/20 season will go down in history after Jurgen Klopp's men ended Liverpool's 30-year wait for a league title. But having come through an exhausting year-long campaign, is there anything left in the tank of the Red machine?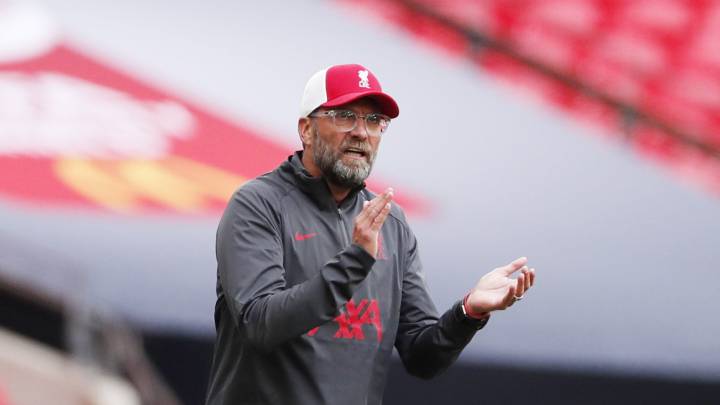 First five games: Leeds United (H), Chelsea (A), Arsenal (H), Aston Villa (A), Everton (A)
Final five games: Manchester United (A), Southampton (H), West Bromwich Albion (A), Burnley (A), Crystal Palace (H)
Liverpool's 19/20 season
For decades, the Red half of Merseyside went into each new season with one aim; to return to the summit of English football. Gerard Houllier, Rafael Benitez and Brendan Rodgers all came close but while FA Cups, Champions Leagues and countless gifted footballers came and went that one trophy eluded them. Exciting talented teams fell just sort, missing some vital component.
Then, in 2015, Jurgen Klopp arrived on Merseyside with the promise of turning doubters into believers. He quickly changed the atmosphere at Anfield, building a team capable of competing with the best but after coming so close to the title in 2018/19 many feared they had missed their chance. Klopp had other ideas.
Other Premier League previews:
Liverpool had won their final nine games of the previous season and they continued that breathless pace into the new campaign, picking up 26 wins from their first 27 league games of 2019/20. They enjoyed a record-breaking start to the season, one unrivalled across any of Europe's top five leagues, as they went 22-points clear of the chasing pack. They played as one cohesive unit, the culmination of Klopp's four years in charge. Their forwards were not quite as prolific as they had been but the team's relentless attitude and peerless intensity set them aside from the rest.
It was not all plain sailing though. They made early exits from the League Cup and FA Cup; were eliminated from the Champions League at the round-of-16 stage and were even threatened with the cancellation of the Premier League season at one stage. But throughout that their focus did not waiver and Liverpool wrapped up the earliest (with seven games remaining) and the latest (confirmed in late-June) title in Premier League history. In the end they finished one point short of Manchester City's record 100-point season but, despite a slight post-restart drop-off, they dealt admirably with the pandemic disruption. It is often said that defending a title is harder than winning one and the determination shown last season will stand them in good stead.
What lies in store for Klopp's side?
Not much. Understandably Klopp has not made any sweeping changes to a side who have amassed 196 points in the previous two seasons. Last summer many were questioning Liverpool's failure to strengthen the squad in any meaningful way but that allowed them to maintain their momentum and the cub will hope for more of the same. Klopp has always preferred to keep a relatively settled group of players and the financial implications of the pandemic have made Liverpool even more cautious in the transfer market.
Instead we will see greater opportunities given to fringe players like Takumi Minamino, who scored his first Liverpool goal last weekend, and Naby Keita, who caught the eye after lockdown. Also likely to feature more heavily are youngsters Curtis Jones and Neco Williams. Both performed well when given a chance towards the end of last season and were recently rewarded with new five-year deals with the club.
What should we expect this season?
After lifting the Champions League, the Club World Cup and the Premier League in the last 18 months Klopp could be forgiven for thinking that there are no more worlds left to conquer. But having revealed that he has no plans to extend beyond his current contract, the Liverpool boss has another four years to cement his legacy and will be readying his troops for another high-octane campaign.
Improvements in the cup competitions will be on the agenda, particularly the domestic ones where Klopp has struggled during his time in England. They do not have the deepest of squads but if they are to be considered a truly elite side, as they have every right to be, they will be expected to compete on all fronts consistently.
City managed two consecutive 95+ point seasons before falling away dramatically and Liverpool will hope to do better with their own difficult third album. Liverpool's defence solidity, an area where they outperform even a peak Manchester City, should prevent a huge drop-off but they will have their work cut out trying to defend their title with their rivals strengthening around them.
What does Klopp think?
Jurgen Klopp: "Chelsea look pretty ambitious obviously in the transfer market; United will do some stuff and they were already good last year; City, everybody thinks they will do. That's how it is. Then still you have to find a way of playing again and everybody has the same chance. It's not how many players anybody will sign, in the end they have to play with 11 and make three changes.
"In the moments when you face all these different teams you have to be ready to fight and be ready to win. That's what we did in the last two-and-a-half, three years pretty much."
What do the fans think?
Craig Hannan of The Anfield Wrap, award-winning Liverpool FC website and podcast:
"We've seen the team's ability to dust themselves off and go again and 2020/21 will be the real test of character within the squad. The motivation will be the possibility of winning it with fans (hopefully) in the stadium and the fact that it would be number 20 - equalling United's title tally. This football team have yet to let us down and winning it twice in a row would end up being their greatest achievement yet.
"This side need to take advantage of just how good they are, they're the best Liverpool side I've ever seen and so we want as many trophies as possible during this period. With Jurgen Klopp at the club it feels like anything is possible."