Premier League 2020/21 preview: Manchester City
After two blistering campaigns City were beaten to the title by Liverpool. A major reshuffle is in order for City but does Guardiola have another ace up his sleeve?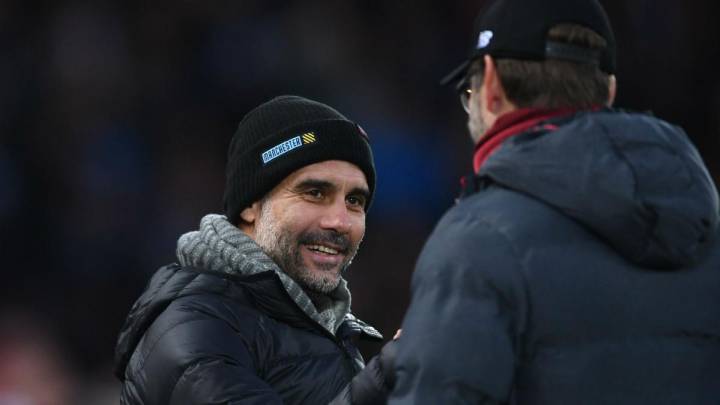 After two blistering campaigns Manchester City came crashing down to earth last season as Liverpool soared past them to take the title. A major reshuffle is in order for City but does Pep Guardiola have another ace up his sleeve?
First five games: Wolverhampton Wanderers (A), Leicester City (H), Leeds United (A), Arsenal (H) West Ham United (A)
Final five games: Crystal Palace (A), Chelsea (H), Newcastle United (A), Brighton and Hove Albion (A), Everton (H)
How was last season?
Well it had to end eventually. Manchester City had managed two near-perfect Premier League seasons under Pep Guardiola as they first hit 100 points and then saw off European champions Liverpool the following year. They had the chance to become the first team other than their city rivals to win three consecutive Premier League titles but defensive lapses stifled their momentum as they struggled to find consistency.
Other Premier League previews:
The attacking talent is still there; they outscored Liverpool again and became just the fifth side to hit over 100 goals in a single Premier League season. They appeared just as capable of steamrolling opponents as ever, winning ten league games by four or more goals and putting eight past Waford. At times they showed their capabilities on the big stage too, beating Real Madrid both home and away in what looked at the time like momentous wins.
But while they promised a lot they often came up short, devoid of the solidity and cohesion that Liverpool possessed. Their strengths remained but their opposition had become better aware of their weaknesses. They lost Aymeric Laporte, arguably the most indispensable member of their squad, in August and a weakened City promptly lost their next fixture against lowly Norwich City. It was their first defeat of the season and one from which they never really recovered.
The reigning champions suffered nine defeats in 38 league matches, the same number as seventh-placed Wolves and more than Guardiola had ever previously lost in a single league campaign. It stunted their progress and robbed them of momentum as they failed to record more than three successive victories until late-July, long after Liverpool's title was confirmed. They retained hope that this could be their season in Europe but at the crucial moment they were undone by lapses of concentration and defensive errors. A solitary League Cup was all they took from an underwhelming season.
What's changed?
One big change for the 2020/21 season will be the absence of David Silva who leaves after a decade with the club. His departure, following in the footsteps of Vincent Kompany a year earlier, means that Sergio Agüero is now the only member of City's 2011/12 title-winning side still at the club. Silva's value on the pitch had diminished in recent years but his presence around the club will be missed.
Many expected that City would invest heavily this summer to claw back some ground on Liverpool, particularly considering their comparative financial independence from matchday revenue. However their major signings so far have been fairly pragmatic ones. Nathan Aké was brought in to strengthen the defence and add cover at left-back while young winger Ferrán Torres will replace the departing Leroy Sané.
That is all so far; solid, but unlikely to make up the 18-point gap to the Liverpool. Their frugal spending seems particularly strange given that UEFA has temporarily loosened Financial Fair Play regulations to help clubs deal with the pandemic. Rumours of a big move for Kalidou Koulibaly persist but City fans will be watching the future of Lionel Messi with keen interest. The club insist that they have made no contact with Barcelona but the Guardiola connection may put them at the front of the queue should he be allowed to leave. If Guardiola can mastermind a reunion with the greatest footballer of all time it would certainly put a dent in Liverpool's lead.
What should we expect this season?
A team with the resources of Manchester City should never be away from the top for long and after a substantial drop in performance last season Guardiola will demand improvement. The gap between them and Liverpool gives the champions some breathing space but City will be aiming to overtake the Reds and make progress in Europe.
To do so they need to fix a couple of structural issues that hampered them throughout 2019/20. The defensive improvement will be a priority, as shown by the acquisition of Aké. The Dutchman may even find himself filling in at left-back for big games in place of the more talented but less reliable Benjamin Mendy.
At times in the last 12 months it seemed like the other top Premier League sides had figured City out. They lost half of their ten league games against the 'Big Six', the same number as Arsenal and Tottenham Hotspur, and looked particularly vulnerable on the road. Guardiola employed new systems in Europe last year and despite their varying success we can expect further innovation this season. After the disappointment of the campaign the City boss may be planning something bold for his side and may soon have a new weapon in his arsenal.
What does the manager think?
Pep Guardiola: "It's a challenge for me, I've never done five years at one club and also the challenge to see if we can maintain the levels that we have in the previous seasons. In one world where everyone sacks everyone, it's so difficult to keep a job for a long time, just take a look, England used to be an exception but not anymore. It depends on the results and I'm so proud of the staff and backroom and players for helping me to be here for a fifth season… The manager depends on results and it's a challenge on how we are going to maintain this level."
What do the fans think?
Ahsan Naeem, founder and host of Manchester City podcast Ninety Three Twenty: "The expectations are so high at City that anything less than the title is always a disappointment, and it will be the same next season. I think realistically Pep and the team also needs to get further than the quarter finals of the Champions League for the season to be a success. Personally I expect us to claw back the gap to Liverpool and end up finish top. If Messi comes that expectation will, of course, be even higher."