Real Madrid: Jovic could follow Brahim to AC Milan
According to reports in Italy, AC Milan are in talks with Real Madrid striker Luka Jovic's agent in a bid to convince the striker to follow Brahim Diaz to the Lombardy capital.
Real Madrid striker Luka Jovic's short-term future has yet to be resolved, but all indications are that he could end up on loan at AC Milan next season
Relations between Real Madrid and Milan are at the their best, as was demonstrated by the recent loan agreement made for Jovic's Madrid team mate Brahim Diaz, who will spend next season in the Lombardy capital.
Milan in talks with Jovic's agent
According to La Repubblica this Sunday, Milan is working with the agent of the Serbian striker, Fali Ramadani, to iron out the conditions of a loan deal. The Italian media have also pointed to Ante Rebic as a key figure in the operation.
The Croatian Milan striker has maintained a great friendship with Jovic since the two shared a dressing room at Eintracht Frankfurt two seasons ago, and so Milan will reportedly try to take advantage of that bond in its bid to convince Jovic to make the switch.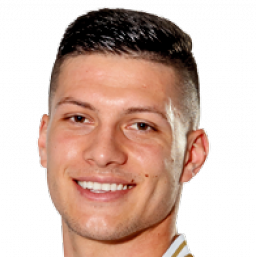 Real Madrid will have last word on Jovis switch
However, Real Madrid and coach Zinedine Zidane will have the last word on the matter, with the club and manager yet to decide their quote of strikers for next season.