Premier League 2020/21 preview: Tottenham Hotspur
Spurs boss Jose Mourinho called the club's 2019/20 campaign "crazy" but after some time to work with his team, can he be the man to lead Tottenham to glory?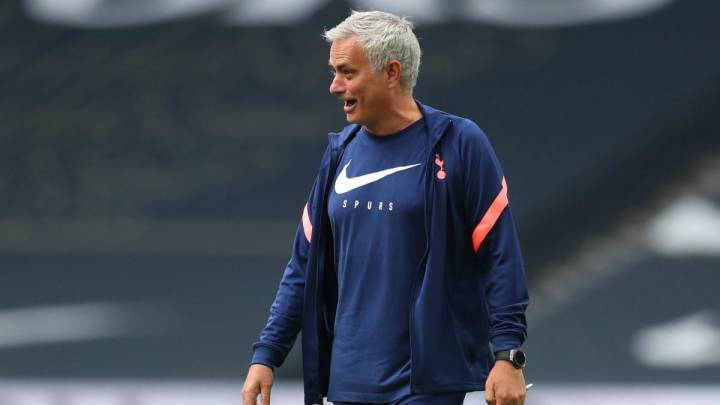 Spurs boss Jose Mourinho called the club's 2019/20 campaign "crazy" after squad stagnation, managerial upheaval and financial concerns threatened the progress made by his predecessor. But after some time to work with his team, can Mourinho be the man to lead Tottenham to glory?
First five games: Everton (H), Southampton (A), Newcastle United (H), Manchester United (A), West Ham United (H)
Final five games: Sheffield United (H), Leeds United (A), Wolverhampton Wanderers (H), Aston Villa (H), Leicester City (A)
How was last season?
Looking back at the final months of Mauricio Pochettino's time at Tottenham Hotspur it is clear to see that his journey with the club had come to an end. Their incredible run to the Champions League final the previous season had papered over some widening cracks but defeat to Liverpool denied that team of their first taste of silverware and seemed to have an even greater effect on the coach.
Other Premier League previews:
"I spent 10 days in my house and didn't want to go out. It was so tough because we nearly touched glory," said Pochettino last summer, not exactly the words of someone raring to go again. That feeling seemed to spread and by November Spurs were down in 14th and without a win in five. Chairman Daniel Levy realised he had to make a change and after five brilliant years at the club Pochettino was sacked.
If that decision was met with shock it was nothing on the reaction to the news that Jose Mourinho would be his replacement. Mourinho had not taken over a team during a season since his very first managerial job at Benfica back in 2000 and many felt his best days were behind him.
However his time in North London began promisingly as Spurs won four of his first five games, scoring 14 times to dampen the claims that Mourinho is too defensive for the modern game. Results tailed off in the new year but the coronavirus suspension gave Mourinho the opportunity to make up for the pre-season that he had not yet had. The Spurs boss had to apologise for breaking lockdown restrictions after being spotted conducting a clandestine training session in a North London park but it seemed to work.
When the Premier League restarted in July it was clear that Spurs were improving and looked more solid and cohesive. Spurs lost just one of their last nine games and picked up four clean sheets, as many as they had managed in the first 29 games of a chaotic season. The defensive organisation that is Mourinho's calling card was beginning to bear fruit and they secured a Europa League spot on the final day.
What's changed?
Joining mid-season made it difficult for Mourinho to put his stamp on a floundering Spurs side last season but they should be more polished in 2020/21. He has not had a normal pre-season but the seven-week break is more than many of their rivals will have had. Mourinho's abilities as a coach have come under question in recent years but he should get the best out of Spurs' talented young defenders like Juan Foyth, Japhet Tanganga and Davinson Sanchez.
Pochettino's early departure last season meant that his signings were underused after Mourinho arrived. Club-record signing Tanguy Ndombele started only 12 Premier League games all season and was not even in the squad for the final three fixtures. Likewise £24million left-back Ryan Sessegnon has not made a league appearance since January. Spurs decided too late to back Pochettino in the transfer market and the disjointed squad that Mourinho inherited will need some work.

The pandemic has left the club in a much weaker financial state than they were last summer when they reported a world-record profit of £113 million on the previous campaign. Their £1 billion stadium has been empty since March and they were forced to take out a £175 million loan to ease the impact of the coronavirus. As such, this season's signings are a bit more cost-effective but they carry the hallmarks of classically Mourinho players. Pierre-Emile Hojbjerg arrives from Southampton to be the energetic ball-winner that Spurs lacked last season. Serge Aurier never seemed like a Mourinho full-back and the arrival of 6'1" Matt Doherty from Wolverhampton Wanderers will add the defensive functionality that the Spurs boss demands.
What should we expect this season?
For all his good work with the club Pochettino's extraordinary over-achieving was never rewarded with the silverware that Tottenham supporters crave. Despite establishing themselves as Champions League regulars over the last decade, their last trophy was the 2008 Carling Cup won under Juande Ramos.
Despite his detractors Mourinho has always guaranteed trophies, winning at least two during each of his last six managerial roles. Commenting on the appointment, Daniel Levy said: "In Jose we have one of the most successful managers in football. He has a wealth of experience, can inspire teams and is a great tactician."
In the new Amazon documentary on the club's tumultuous 2019/20 season, All or Nothing: Tottenham Hotspur, Mourinho's thoughts on what is required are a little more basic. In a team meeting before a big game the new Spurs boss declares: "I honestly feel you are a really nice group of guys. But for 90 minutes you cannot be nice. For 90 minutes you have to be a bunch of *****."
That will certainly play a part in Mourinho's new-look Spurs and he will want to build on the defensive improvement made at the end of last season. They have plenty of options in the wide forward positions and January arrival Steven Bergwijn will be eager to impress in his first full season in England. But as always the key for Spurs will be Harry Kane who will likely play an even more central role given Mourinho's love of physical centre-forwards. Spurs have the ability to challenge for trophies this season but it will take all of Mourinho's experience to take that all-important next step.
What does the manager think?
Jose Mourinho: "We, myself and the staff, analyse internally and we know we are doing a very positive job.
"I can compare it a little bit with my experience at Porto. When I got to Porto in January (2002), that half of the season was really hard, but was so important for the preparation of the next one… So that's what I'm doing now, accumulating knowledge and experience in the club to prepare for what's next."
What do the fans think?
Jamie Brown, founder of Daily Hotspur and contributor to Last Word On Spurs podcast
"Mourinho has clearly identified the need for more experienced heads in the dressing room and players who will suit his style of management. With key areas addressed and stronger characters added to the dressing room, Spurs will be hoping for a much better campaign next term, with fewer errors and more positive performances.
"This season's aim will very much be on ending the 12-year wait for a trophy and returning to the top four. Mourinho is a manager who wins trophies at every club he goes and given his CV, Spurs fans will be hopeful he can finally deliver the club some silverware."