Real Madrid angry with Hazard after Belgium fiasco
Madrid have been put out by the fact that Hazard did not return to Madrid with Courtois on Friday, particularly after he didn't feature in either of Belgium's Nation League games.
Real Madrid have been left scratching their heads as to why Eden Hazard travelled to represent Belgium after the player did not feature in either of the Red Devil's Nations League games during the international break. 
With the new LaLiga 2020/21 season round the corner, Madrid did not want the Belgian Federation to call upon Thibaut Courtois and Eden Hazard for Belgium's opening Nations League games. As a result, the events that have transpired involving Hazard over the past few days have angered those at the club.
While Courtois returned to Madrid on Friday to continue pre-season preparations, Hazard stayed on with the Belgium set up but did not play a single minute in either of Belgium's wins against Denmark (2-0) on Saturday and Iceland (5-2) on Tuesday.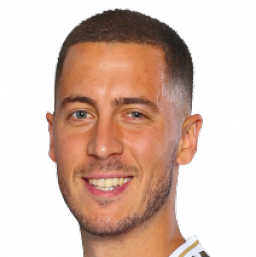 Martinez convinced Hazard to travel
Initially Hazard considered passing up Belgium's call after learning that Luka Modric and Martin Odegaard had decided not to travel to represent Croatia and Norway, respectively. He was also aware firsthand of Courtois' plans in this regard.
But finally, Belgium coach Roberto Martínez convinced him that he was needed in the Belgian dressing room and that playing competitive minutes would be the best form of preparation for the start of the league season.
As was agreed with Real Madrid's specialists, the 28-year-old forward followed an individualized plan during the first days at Belgium's Tubize training base. But due to his recent injury history and the fact that he only joined the group sessions on Friday, just 24 hours before the first game against Denmark, the possibility of him featuring in that match were fading. Despite this, the player still travelled to Copenhagen.
Real Madrid put out by Hazard situation
Much to the amazement of Madrid, the situation did not improve in Brussels three days later, where Hazard was not even called to warm up for Tuesday evening's clash against Iceland.
Initially, Martínez had stated Hazard would feature in at least one of the matches, if not both, before later narrowing it down to one. But the fact that Hazard has travelled to serve as an unused substitute instead of staying to prepare for the new season with Madrid has not gone down well with the Bernabéu bosses.
It has certainly been a bad prologue for a season in which all eyes will be on the former Chelsea man's performances after his poor injury-plagued first season at Madrid.