The Supreme Committee reveal sustainable aspects of WC stadia
The Qatar 2022 Sustainable Stadiums report, compiled by the Supreme Committee for Delivery & Legacy (SC) outlines the sustainability features of each of the tournament venues in relation to design, construction and legacy.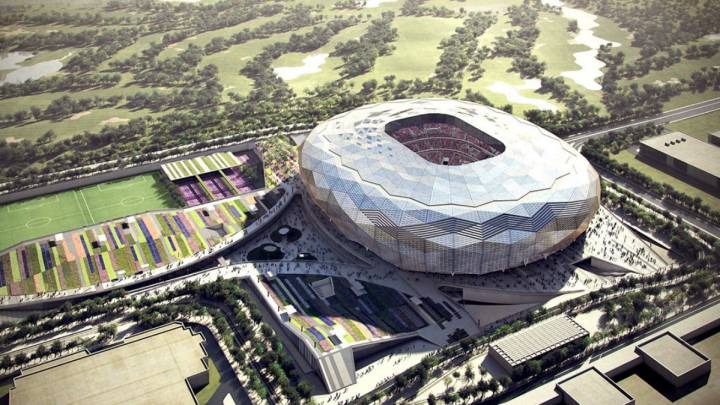 The Supreme Committee for Delivery & Legacy (SC) is the body responsible for delivering the 2022 World Cup in Qatar and earlier this week they unveiled a report highlighting sustainability aspects in the stadiums which will be used for the 2022 World Cup. The report focused on design aspects and the legacy that will be will remain after the event. The tournament will see matches staged in eight stadiums with three venues already open (Al-Khalifa International, AL-Janoub and Education City), while the work continues in the other five grounds.
Commenting on the release of the report, Bodour Al Meer, Sustainability & Environment Senior Manager at the SC said: "Sustainability has been at the heart of all our tournament preparedness efforts from the day we were awarded the rights to host the world's largest football tournament, back in 2010."
🇶🇦🏟️💚

The sustainability features of the 2022 #WorldCup stadiums in Qatar have been outlined in a new report 📄

— FIFA World Cup (@FIFAWorldCup) September 9, 2020
Positive legacy

"In particular, we have always aimed to ensure that the construction and development of our tournament infrastructure leaves a positive legacy for our planet and sets new standards for delivering sustainable, carbon neutral, mega-sporting events in the future."
Stadiums are key in FIFA's efforts to stage successful and more sustainable FIFA World Cups," said Federico Addiechi, Head of Sustainability and Environment at FIFA. "With the publication of this report, we can clearly see the ways in which the FIFA World Cup 2022 preparations have delivered as per the bidding guidelines – and are continuing to deliver – on that goal. The innovative approach adopted by the SC to develop and use new environmental technologies will guarantee a significant legacy for the region and beyond."
The report reviewed ten sustainability aspects at the World Cup stadiums in Qatar, which according to the Supreme Committee are: the removable seating which will see more than 170,000 seats donated to future developments. Qatar 2022 will see the first dis-mountable stadium (Ras Abu Aboud). Stadia will be operational all year round. A efficient and new public transport network to deliver fans to the stadiums will be operational. The using of sustainable construction materials has been a priority, with construction waste being reused and recycled. The installation of green areas which offer a cooling effect. The usage of less energy consumption with 30% with respect to world standards. Water saving mechanisms which compare to 40% in comparison to world standards with all constructions to be awarded sustainability certifications which fulfil the FIFA requirement that each World Cup stadiums should be awarded a certificate which is no less than 4 stars according to the Global Sustainability Assessment System (GSAS).