Real Madrid: Reguilón's dilemma - Sevilla or Manchester United?
The 23-year-old must decide whether to accept an attractive offer from Manchester United or repeat a successful loan spell with Julen Lopetegui's Sevilla.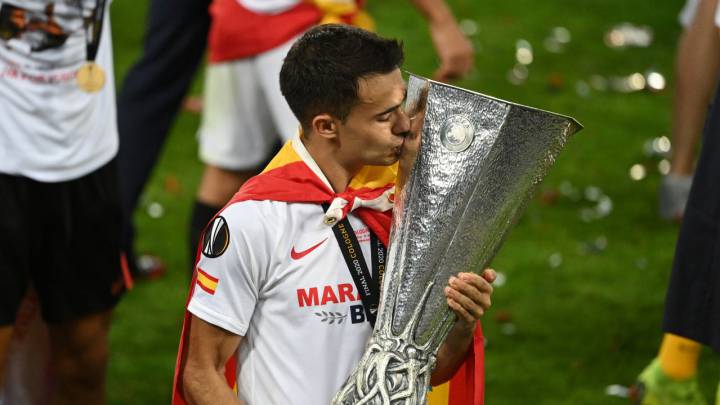 Sergio Reguilón continues working out inside the gym in Valdebebas. The defender is recovering from a sprained ankle which he picked up whilst making his full international debut for Spain in the 4-0 win over Ukraine last Sunday. At 23, Reguilón is in the best moment of his career so far but faces a dilemma over his future.
Accepting United offer would dash Reguilón's Madrid dream
On the one hand he has an attractive offer to join Ole Gunnar Solskjaer's Manchester United - a four-year deal with one of the biggest clubs in Europe, a team which will play in this season's Champions League. The prospect of playing at Old Trafford, one of the temples of world football, is enticing for any player. But that would involve a direct transfer and the Madrileño (he was born in Collado Villalba, the north west part of the region in December 1996) and would effectively block a dream return to Real Madrid, his lifelong club .
For that reason, Regui is seriously thinking about taking up another year on loan at Sevilla, where he has everything he needs - a coach who has faith in him (Lopetegui) unless the situation at Madrid with Zidane... No one knows why Zidane hasn't given the defender more opportunities. Also, Sevilla's project is just as ambitious as United's or those of the Italian clubs who have placed offers - Napoli, Inter Milan and Juventus. Sevilla are also in this season's Champions League and that will give him the chance to compete against the best teams on the continent as well as showcase his own qualities. Sevilla fans love him for the commitment and dedication he showed right the way through last season. His team mates value his personality and temperament, in spite of his young age. Monchi and Lopetegui are pushing for another year-long loan, without an option to buy. Reguilón knows that if he accepts, he will leave the door open to return to Madrid in 2021, and wait and see what happens in the future with Zidane...
Both Florentino and José Ángel Sánchez are delighted with Reguilón's progression and don't want to his development to stop; Regui is taking his time to think things through calmly and carefully as to not rush into making a decision he could later regret.
Real Madrid looking to sell
According to Transfermarkt, Reguilón has a market value of 25 million euros. United would be willing to pay up to 30 million to convince Madrid. But for now, Regui is resisting. He wants to continue developing as a player (under Zidane, that is impossible), but he doesn't want to completely scotch his plans of one day playing at the Bernabéu, as he managed to do for a short while under Santiago Solari.
Madrid would prefer to sell Reguilón as part of this summer's revenue-boosting exercise, but could include a buy-back clause. However, buy-back clauses remains a grey area in transfer deals and if activated, could violate Article 18bis of the Regulation on the Status and Transfer of Players, which states: "No club shall enter into a contract which enables the counter club/counter clubs, and vice versa, or any third party to acquire the ability to influence in employment and transfer-related matters its independence, its policies or the performance of its teams". It's a method which Madrid stopped using a while ago.