Why didn't Real Madrid play this weekend and when is their first LaLiga game?
LaLiga 2020/21 got underway this weekend, 12-13 September. However, none of the big three, Real Madrid, Barcelona and Atlético were in action.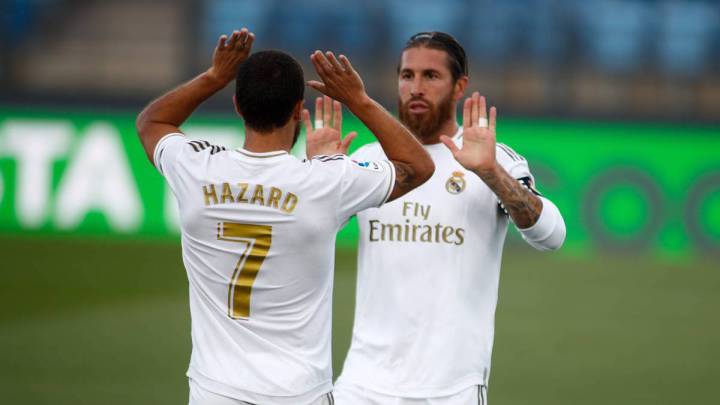 After a brief turnaround following the extended 2019/20 season, the LaLiga 2020/21 season kicked off this Saturday, 12 September, with the meeting of Eibar and Celta Vigo.
There was a total of seven fixtures this weekend (three on Saturday, four on Sunday), meaning six teams did not compete during the weekend of matchday one, namely Real Madrid, Barcelona, Atlético Madrid, Sevilla, Getafe and Elche.
The reason these six teams will start their campaigns later is because they competed in the rescheduled Champions League (Madrid, Barcelona, Atético) Europa League (Sevilla, Getafe) or promotion playoff fixtures (Elche), all of which took place after the LaLiga 2019/20 season was completed on 19 July. As such, they have been given additional time to prepare for the new season.
When will Real Madrid start their LaLiga campaign?
As Madrid's last 2019/20 fixture -- the Champions League last-16 defeat to Man City -- took place on 8 August, Zinedine Zidane's side will begin their title defence on matchday 2 against Real Sociedad at the Reale Arena on 20 September.
Following their away trip to Real Betis on 27 September (matchday 3), Real Madrid's first home game will take place at an empty Santiago Bernabéu on 30 September against Valladolid (matchday 4).
Sevilla, Barcelona, Atlético begin on LaLiga matchday 3
As Sevilla, Barcelona and Atlético Madrid's respective European competition runs extended longer than that of Real Madrid, these three clubs will begin their league campaigns on matchday 3.
Europa League winners Sevilla travel to face newly promoted Cádiz on 27 September, while Barcelona and Atlético, both whom reached the Champions League quarter finals, will face Villarreal and Granada, respectively, on the same day.
Meanwhile Getafe, who lost to Inter Milan in the Europa League last 16, will play on matchday 2 against Osasuna on 18 September.
Having defeated Girona in the second leg of the promotion play-off final on 23 August, newcomers Elche will play their first Primera División game against Real Sociedad on 27 September.
Real Madrid vs Barcelona: Clásico dates
The always hotly anticipated first Clásico of the season will take place at Camp Nou on 25 October, while Madrid will host their bitter rivals in the return fixture at the Bernabéu on 11 April.
Real Madrid vs Atlético: Madrid derby dates
Madrid's first clash with local rivals Atlético Madrid will happen on 13 December at the Bernabéu, with Diego Simeone's men welcoming Zidane's side to the Wanda Metropolitano on 7 March.
Madrid's last game of the season will be played at home against Villarreal on 23 May.
Real Madrid's fixture list in full:
Matchdays 1-19
Real Madrid-Getafe (Postponed)
Real Sociedad-Real Madrid (19/20 Sept)
Real Betis-Real Madrid (26/27 Sept)
Real Madrid-Real Valladolid (29/30 Sept)
Levante-Real Madrid (3/4 Oct)
Real Madrid-Cádiz (17/18 Oct)
Barcelona-Real Madrid (24/25 Oct)
Real Madrid-Huesca (31 Oct/ 1 Nov)
Valencia-Real Madrid (7/8 Nov)
Villarreal-Real Madrid (21/22 Nov)
Real Madrid-Alavés (28/29 Nov)
Sevilla-Real Madrid (5/6 Dec)
Real Madrid-Atlético de Madrid (12/13 Dec)
Eibar-Real Madrid (19/20 Dec)
Real Madrid-Granada (22/23 Dec)
Elche-Real Madrid (29/30 Dec)
Real Madrid-Celta (2/3 Jav)
Osasuna-Real Madrid (9/10 Jan)
Real Madrid-Athletic (19/20 Jan)
Matchdays 20-38
Alavés-Real Madrid (23/24 Jan)
Real Madrid-Levante (30/31 Jan)
Huesca-Real Madrid (6/7 Feb)
Real Madrid-Valencia (13/14 Feb)
Real Valladolid-Real Madrid (20/21 Feb)
Real Madrid-Real Sociedad (27/28 Feb)
Atlético de Madrid-Real Madrid (6/7 Mar)
Real Madrid-Elche (13/14 Mar)
Celta-Real Madrid (20/21 Mar)
Real Madrid-Eibar (3/4 Apr)
Real Madrid-Barcelona (10/11 Apr)
Cádiz-Real Madrid (20/21 Apr)
Real Madrid-Real Betis (24/25 Apr)
Getafe-Real Madrid (27/28 Apr)
Real Madrid-Osasuna (1/2 May)
Real Madrid-Sevilla (8/9 May)
Granada-Real Madrid (11/12 May)
Athletic-Real Madrid (15/16 May)
Real Madrid-Villarreal (22/23 May)