REAL MADRID
Real Madrid squad numbers 2020/21: Asensio and Vinicius change after Bale exit
As we already reported, Spanish star Marco Asensio takes over the number 11 from Gareth Bale, while Vinicius changes number and name on shirt.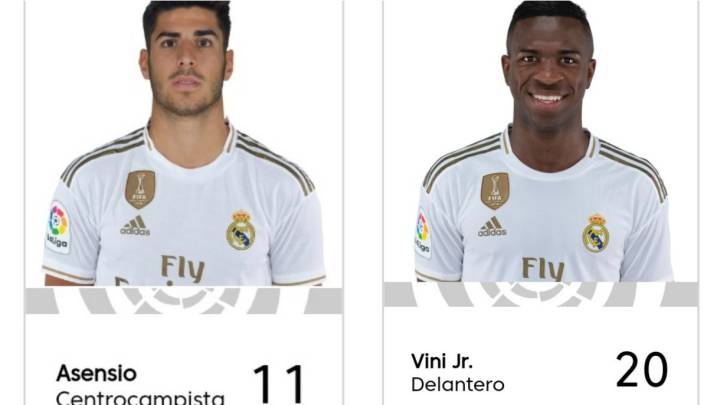 On Friday, LaLiga updated the Real Madrid squad numbers for 2020-21 on its website. With the departure of Gareth Bale, who has worn number 11 since joining for a record fee in 2013, many fans were keen to know who would inherit it. And now we know.
Asensio takes on '11'
Marco Asensio will wear the 11 shirt for the coming season, while Vinicius, the other contender, will also change, taking over the number 20 vacated by the Spaniard. Another change is the Brazilian's chosen name on the back, going from "Vinicius Jr." to "Vini Jr." The Welshman does appear on the list, as number 25, ahead of him signing his loan deal with former club Tottenham.
11


Asensio has always been drawn to the number 10 shirt at Real Madrid but that is not being freed up quite yet by Luka Modric. In Mallorca he played with both 38 and 27 on his back, and at Espanyol with 25. For his part, Vinicius had preferred 11, but has to settle for the moment with 20 as Asensio has club seniority.
As we reported earlier in the day, Borja Mayoral is expected to play a part in Zidane's plans over the coming months, and he has taken number 16. In addition, Courtois has switched to the symbolic number 1, despite his affection for 13. Odriozola returns with 19 and Odegaard starts with 21, released by the Brahim after his transfer to Milan.
Real Madrid squad numbers 2020-21:
| | |
| --- | --- |
| PLAYER* | NUMBER |
| Courtois | 1 |
| Carvajal | 2 |
| Militao | 3 |
| Sergio Ramos | 4 |
| Varane | 5 |
| Nacho | 6 |
| Hazard | 7 |
| Kroos | 8 |
| Benzema | 9 |
| Modric | 10 |
| Asensio | 11 |
| Marcelo | 12 |
| Casemiro | 14 |
| Fede Valverde | 15 |
| Borja Mayoral | 16 |
| Lucas Vázquez | 17 |
| Jovic | 18 |
| Odriozola | 19 |
| Vini Jr. | 20 |
| Odegaard | 21 |
| Isco | 22 |
| Mendy | 23 |
| Mariano | 24 |
| | |
*Lunin and Rodrygo do not appear as they are signed for Castilla