Gareth Bale, from villain in Madrid to hero in London
The Welsh forward was welcomed back to London like a superstar. Around 100 fans were waiting for him in Enfield. His loan deal was not made official yesterday.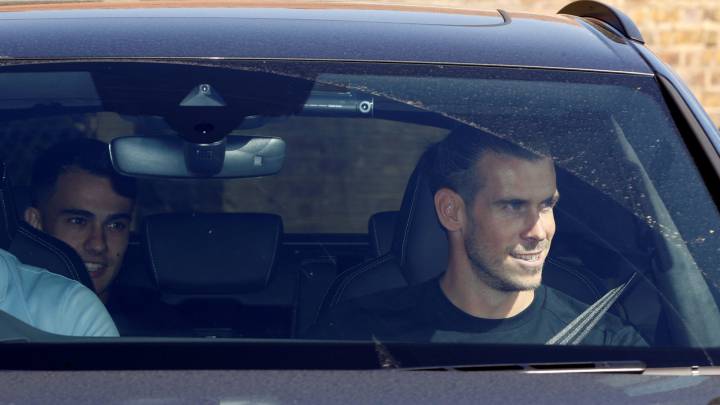 Gareth Bale returned to north London as a superstar on Friday, the Welsh forward was given a warm welcome by both the local media and the fans. Bale's return was top news story across all of the national sports media, with the BBC and Sky giving a minute-by-minute account of his arrival in the capital.
But by mid-afternoon, the mood was a little more subdued. There was still no official announcement from Spurs (regarding Bale or Reguilón), and no photographs of either player posing in the Tottenham shirt. But nor was there any hint that the deal might have fallen through - it was just that Tottenham preferred to wait until today to confirm the news and draw a bigger audience.
Bale and Reguilón arrived at a private terminal in Adolfo Suarez Madrid-Barajas airport at around 9:00 hours yesterday. They flew together on a small, private jet, and were picked up on arrival by Tottenham officials and driven directly to the club's training complex in Enfield. Tottenham president Daniel Levy and manager José Mourinho were seen arriving moments earlier.
When Bale arrived in London, the loan deal had been agreed but not signed. Tottenham were keen to conduct medical tests of their own - on top of the ones which the player completed in Madrid, given his history of injuries. During those tests, a minor problem with Bale's knee was detected - an injury which he ad picked up while on international duty with Wales and for which he had been receiving treatment. That will delay his debut, which would not have come in tomorrow's meeting with Southampton because for that to happen, he would have needed to have been registered with the FA by midday on Friday.
Terms of Bale's loan move to Spurs
Spurs did confirm to local media that it is a one-year loan deal without the possibility of an automatic extension. As for the financial details of the operation, there are two versions coming out of England - one says that Tottenham will be responsible for paying 40% of Bale's wages, the other claims that the club will pay half of Bale's gross 30 million euro salary, but that figure could rise to 22 million if the player reaches a series of performance-related objectives.
Bale is still a big draw in the United Kingdom. As was evident yesterday. Around 100 fans were waiting for his arrival in Enfield. When Bale's car was spotted, the fans started chanting: "Spurs, Wales and golf, in that order!", and "Bale, born to play for Spurs!" He was the talking point in all of the sports debates in the country's top television programmes. Bale is smiling once again...