Ruben Dias v Jules Kounde: Manchester City's centre-back targets compared using Opta data
Manchester City appear set to land either Ruben Dias or Jules Kounde – using Opta data, we looked at their suitability.
Pep Guardiola seems desperate to reinforce his centre-back options before the transfer deadline early next month, and it appears his primary targets are Ruben Dias of Benfica and Sevilla's Jules Kounde.
Media reports on Friday suggested that City have offered approximately €55million, plus Nicolas Otamendi, for Dias having apparently had a similar offer turned down for Kounde last week.
Sevilla sporting director Monchi confirmed the club had received an offer for the talented Frenchman, though he did not reveal the club that bid – which was rejected – came from.
City had previously seemed focused on Napoli's Kalidou Koulibaly, while Kounde's partner at Sevilla, Diego Carlos, was also said to have been considered.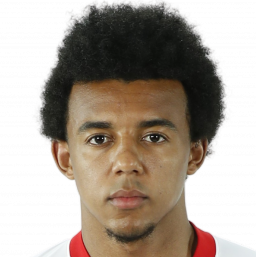 But with no progress on those deals, City have identified younger options, with Dias 23 years old and Kounde not due to turn 22 for another two months.
With Dias and Kounde looking the likeliest to bolster Guardiola's defensive ranks, we used Opta data to compare the two players.
Adapting to City's style
Given he is a year-and-a-half older than Kounde, it's fair to suggest Dias is slightly further ahead in his development than Kounde, while he is also playing for one of the top teams in a less competitive league than LaLiga.
But there is a lot to like about the Portugal international's game and he does look well-suited to City's possession-based style of play.
He completed 1,934 of his 2,184 passes last term, and though that statistic in isolation doesn't prove a huge amount – many will have been simple and under no pressure – it does show he is used to seeing a lot of the ball.
Of those, 927 were in the opposing half and 81 per cent found a team-mate, whereas Kounde attempted 491 in the attacking half and completed 76.6 per cent.
It's a similar story with regards to passes ending in the final third, where play is likely to be more congested. Dias made 364 passes into such an area and was accurate 68.4 per cent of the time, while Kounde found a team-mate in the attacking third with 66.3 per cent accuracy from 160 passes.
As a base for comparison, City's current centre-backs are reflected much better by the data in this area – Otamendi's passing accuracy in the opposing half is 87.9 per cent, Aymeric Laporte's is 90 per cent, while in the final third their respective figures are 76.8 per cent and 84.6 per cent.
With respect to Kounde, it is worth bearing in mind that Sevilla play far more direct than either of the other two teams in question. They played 2,594 long balls in the league last term, while City registered 1,978 and Benfica attempted 1,581.
Where Kounde does come out on top, however, thus proving his ability on the ball and ease at bringing it out from the back, is the fact he attempted 22 dribbles and completed 81.2 per cent of them – of the defenders (that's centre-backs and full-backs) in LaLiga to try 20 or more dribbles, only one had a better success rate.
Dependable defenders?
As possession-oriented as City are, even a team like that has to do a bit of defending now and again – and although they only conceded two more goals than Liverpool in 2019-20, it was widely felt the centre of defence was their biggest issue.
Otamendi proved unreliable, Fernandinho isn't a natural centre-back, John Stones was unconvincing when fit and Laporte – undoubtedly their best option – missed a chunk of the season with an ACL injury.
The hole left by Laporte and Vincent Kompany's departure to Anderlecht was gaping and resulted in City looking flimsy, particularly when put under pressure – seven of their nine defeats were away from home.
Dependable, hard-working centre-backs capable of playing with the ball at their feet are seemingly what Guardiola is after, and both Dias and Kounde proved to be just that for their respective teams.
Kounde was a standout performer as recently as Thursday for Sevilla, impressing in spite of a 2-1 UEFA Super Cup defeat to Bayern Munich. He made three tackles and nine clearances, also winning each of his six aerial duels.
In a straight comparison between Dias and Kounde with regards to standard defensive metrics, the former does generally come out on top, as he won possession back more times (175 to 108) than the Frenchman, and bested him in terms of interceptions (30 to 23), overall clearances (101 to 88), tackles (44 to 23) and duels (254 to 229).
But Kounde, though less of a domineering physical specimen than Dias in appearance, does tend to be more effective aerially, suggesting his stats against Bayern were no fluke.
Despite playing four fewer matches than Dias, he made more headed clearances (56 to 50), engaged in a greater number of aerial duels (149 to 141) and won more as well (94 to 86).
The verdict
Both players fit the general mould of centre-backs that Guardiola likes, but to suggest either is the finished article or a world-class player yet would be premature.
Kounde did very well in his first season in LaLiga, but he only truly found consistency in his performances at the start of 2020 – a talent, certainly, with his ceiling seemingly very high, but prising him away could cost City well over £60m.
Dias appears the easier to sign given he will likely be slightly cheaper than Kounde, while in most cases in this statistical comparison, he has the edge.
But, with Victor Lindelof impressing for Benfica but struggling to convince with Manchester United, City may want to take note of a warning from across town.