Luis Suárez: "I was keen to find out what it means to play for Atleti"
The Uruguayan striker spoke on his first day with his new club: "I've arrived at a big club in LaLiga and having Cholo here is a plus".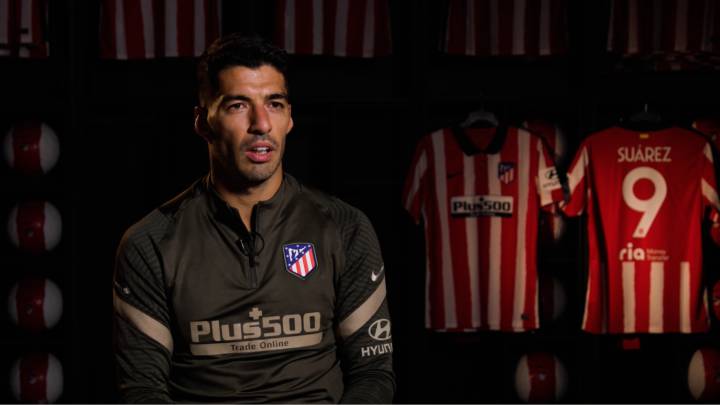 Luis Suárez is a new Atlético Madrid player and as part of his presentation, spoke to members of the media via video conferencing. The Uruguayan striker affirms that he's arrived at a 'competitive' side and added that both the club's supporters and manager Simeone are additional motivating factors.
—What convinced you to sign for Atlético?
—That motivation to play for a big Spanish club and Atleti are certainly that. They are a side with fine players, a competitive block that aim for the top spot in LaLiga and both the supporters and coach are additional motivation factors.
—Did you speak with Simeone before signing?
—Atleti are a club where you can see a clear manner of competing and that is something sensed by the intensity of their way of playing. From an outside perspective, it was another factor in the decision making process as were the conversations before joining.
—Has Cholo rekindled your enthusiasm for the game, he's admired you for some time?
—Talking to to the new manager is a clear plus in joining Atlético. He has a motivational manner of speaking and is hugely committed to his ideas. Having said that, I was already keen and even before the conversations, was anxious and excited to come.
—What's the biggest motivating factor about your new challenge?
—I plan to add my grain of sand to this already big club. Maybe not so much last season, but in previous campaigns, they've challenged Barça and Real Madrid all the way in the league title battle and that says much about their ability to compete. I've come to try and achieve great things with a club who have been on the cusp of success and will do all I can in helping the cause.
—How are you after the knee operation?
—That's now in the past and I'm hoping to put injuries behind me. My objective now is to be at my best, train hard and do my utmost in every game.
—Messi stood up for you over the way in which you left Barça. Is this a motivating factor for you?
—Leo knows me well and is well aware of my level of conviction. It's a source of pride to be able to leave a positive legacy behind me. I've now moved on and joining this competitive side is a major motivation.
—Should Atleti amend their way of playing to suit your style of play or will you adapt to the team?
—A player should never change the philosophy of a team. A player should always be flexible, adaptable and be enthusiastic when being asked to carry out a role. This is something I saw at Ajax, Liverpool and later at Barça. Three different clubs but I always managed to adapt. That's something that I'm not anxious about, coming here will be no exception.
—When you spoke with Godín and Griezmann about the move, what advice did they have to offer?
—Everything the said was very positive and both enjoyed successful spells here and they offered any help that I may need.