Mayoral convincing Zidane he should be Benzema back-up ahead of Jovic
AS understands that the striker has made the decision to remain at Real Madrid for the season placing further doubt on the future of Luka Jovic.
Borja Mayoral has apparently decided to remain at Real Madrid for the 2020-21 season after a series of meetings with the Bernabéu hierarchy and his agent. The 23-year-old striker looked set to go out on loan again but has seemingly won over Zinedine Zidane in recent weeks as the Frenchman elects his preferred back-up to Karim Benzema. Mayoral's decision will place further question marks over the future of Luka Jovic, who has still yet to convince Zidane he is the answer to reserve striker role despite starting in the 3-2 victory over Betis.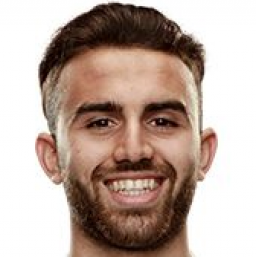 Zidane has told the Bernabéu board that he would prefer Mayoral remain at the club as understudy to Benzema and has given the green light for Jovic to go out on loan after an underwhelming first season at Real Madrid. There is little appetite at the club to give up on a €60m investment but also a sense that a year elsewhere to regain his confidence will be the best move at the moment for the 22-year-old Jovic. Roma, Inter Milan and Manchester United have all expressed an interest in the Serbia international, who managed just two goals in 27 appearances last season.
Mariano and Jovic on the market 
Mayoral has decided to stay but he remains cautious after his experience in 2018-19 when he was told he would be Benzema's back-up only for Real Madrid to re-sign Mariano from Lyon. Mayoral made one appearance that campaign before being sent out on loan to Levante.
There is still a week left of the transfer window and it cannot be ruled out that Madrid will make a last-minute move that compromises Mayoral's decision but Zidane has personally informed the striker that he sees his future at the Bernabéu, where he in under contract until 2021.
In the meantime, it remains to be seen what the next few days bring for Mariano, who was a peripheral figure last season, and Jovic, who seems to have run out of chances to convince Zidane he should retain the role he was initially signed for in favour of Mayoral.