Players that impressed In AFC Champions League quarter finals
Following the west region quarter finals, the AFC website gave credit to the players who made the most impact especially those who helped their teams advance.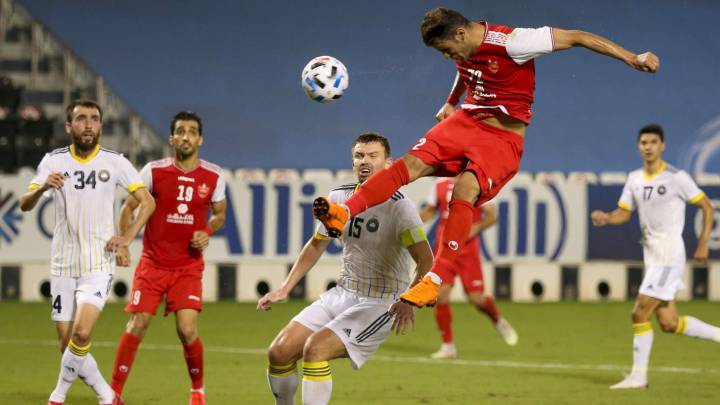 The AFC website highlighted the important roles played by some players in the Asian Champions League quarter-finals that ended with Al-Nassr and Persepolis securing the two spots of the western region in the semi-final.
Al-Nassr's Sultan Al-Ghannam
Al-Nassr's winger Sultan Al-Ghannam was one of the most influential players in the quarter finals as he produced 26 crosses, created three chances for his team mates and provided an assist to Abdulfattah Assiri. The 26-year-old Ghannam played a significant role in Al-Nassr achieving a 2-0 victory over their rivals Al-Ahly.
Perspolis's Neamati
📊 OPTA have named the candidates for the @Toyota Player of the Week for the #ACL2020 Quarter-finals!

🤔 Who is 𝐘𝐎𝐔𝐑 choice for POTW?

𝕍𝕆𝕋𝔼 👇

— #ACL2020 (@TheAFCCL) October 1, 2020
Perspolis Siamak Nemati also played a key part in helping his team qualify to the next round. The player set up Isa Al-Kasiri for the team's opening goal and finished with an accuracy rate of 91% in passing in addition to creating several chances throughout the game.
Gonzalo Martinez
Al-Nassr's player Gonzalo Martinez played a significant role in his team's qualification. The Argentine attacking midfielder played 71 minutes in which he had 49 touches of the ball and his pass accuracy was registered at 86%. He also scored his team's first goal.
The article also shed the light on the impressive performances delivered by Perspolis's Isa Al-Kasiri who scored twice to pave his team's way to the semi-final, as well as his team mate Kamal Kamyabinia who completed 75 passes at a 96% success rate. He also won in 7 out of 11 one-on-one encounters.
Performances by Al-Nassr's midfielder Awad Khamis, defender Abdullah Mado, and Abdulmajeed Al-Sulayhem were also praised as they were nominated to win Toyota's Player of the Week award.
Sultan Al-Ghannam is currently leading the race for Toyota's Player of the Week as he has notched up 7.9 points so far; he is followed by Perspolis's Neamati who has gained 7.5 points. Fans are allowed to put in their votes until Saturday when the winner will be announced.