Injury-hit year for Hazard at Real Madrid
Since arriving in Madrid, Hazard has picked up six injuries, been out for more than 200 days and missed 27 games. In his entire career before moving to LaLiga, he missed 24 games.
Eden Hazard came to Real Madrid to lead the club's new project in attack, but at the moment, he only leads the list for days off through injury. The latest injury to the Belgian was also the most surprising. On Tuesday, he finally entered Zidane's squad for the match against Valladolid, but on the same day of the game, Wednesday, he went to Valdebebas at around ten in the morning, long before the time set for training. He made the early trip to the training facilities to reveal to the medical team a muscular injury in his right leg, which Madrid confirmed hours later on the club's website.
It is the sixth injury in a long year for Hazard at Real Madrid. Six injuries that, so far, have made him miss 27 games with Real Madrid. The fourth injury of the five that he suffered last season, the one that forced him to undergo surgery to replace the titanium plate that he already had in his ankle, required 93 days of recovery. It caused him to miss just three games due to the coronavirus pandemic. The number of days on the sidelines already exceeds 200 and on Thursday, October 1, it became 206 days.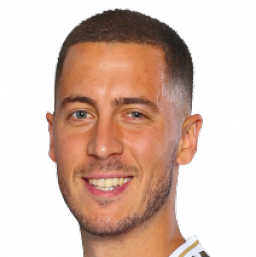 This is from data extracted from a report requested by AS from Noisefeed, the company that owns the Noisefeed Injuries platform, which has a database that stores information on more than 400,000 footballers and more than 50,000 injuries. One more tool so that clubs, agents, coaches and other players in the football world can have a detailed study of the injuries of one or more players, an aid when making decisions or investing in a future player.
Hazard: 22 injuries in total
Hazard's report shows, in fact, that the Belgian has already missed more games with Real Madrid than in his entire career prior to landing in the Spanish capital. The Belgian has sustained a total of 22 injuries: 16 in his years playing for Lille and Chelsea, as well as for the Belgium national team, and six since he signed for Madrid. Those first 16 injuries kept Hazard out for 241 days and missing 24 games. The former Chelsea forward is expected to be ruled out of action for one month this time round, which would also mean missing the matches against Levante, Cádiz, Barcelona and Huesca, in addition to two or even three matchdays of the group stages of the Champions League.