Zidane responds to reported interest in Lyon's Aouar
Real Madrid coach Zinedine Zidane was asked about his reported interest in Lyon's Houssem Aouar at a press conference ahead of Sunday's clash with Levante.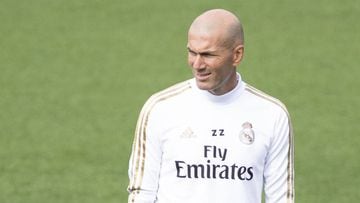 Zinedine Zidane tended to the media in a press conference ahead of Real Madrid's meeting with Levante on Sunday. The French coach discussed the game at hand against "a very difficult opponent", his reported interest in Lyon starlet Houssem Aouar, injuries to Dani Carvajal, Eden Hazard and Álvaro Odriozola, and why he believes this could be Marco Asensio's year. 
Zidane quotes ahead of Real Madrid-Levante
Thoughts on Levante game: "It is true that it is the third game away. We know where we are going. But they are a very difficult opponent. We already saw the game we had there last season (1-0, Levante). The difficulty in this league is preparing our game well and having a good game. And that is what we are going to do. We will surely have problems against a good opponent. But we are prepared."
Current feelings: "I am happy to be here. I am positive in my life. I don't look at things negatively even when things are complicated. From time to time we have injuries, but we are not going to look for excuses. My squad is very talented, but I don't forget that they have a lot of heart also. Things can get complicated, but together we can achieve very good things."
Interest in Aouar: "I don't know what information you have. I have no doubt about this player, he is a great player. Maybe one day he could play for Madrid, but today we have this squad and my concern is the players I have now. As of 5 October (transfer market closing date), there will be no such questions."
How is Hazard? Is there a certain fear that he will have the same injury issues as Bale that could impact his continuity? "No. I am positive about everything, and the same with Hazard. It is also a muscle injury due to him having worked hard to return."
Zidane on Real Madrid injuries and rotations
Are you worried about injuries?: "I don't like it, because I like having everyone available, but they are things that can happen. In the end we have to be patient. It bothers me for the players who are injured, because they can't play. I know this is the worst time for them."
How do you manage rotating the older squad members like Ramos, Kroos and Benzema?: "I talk to the players, but the players you have mentioned, even though they are 30 years old, they can still play six or seven games more. Rotations are good for the squad, training dynamics and because the players are committed. It's just about that. Players always want to play and when they don't they are not happy. I think it's the worst thing about a coach's job, when you have to tell someone that they're not going to start."
Carvajal and Odriozola injuries: "These are things that can happen in a squad. We have to count on other players, we can't look for excuses."
In what areas do you expect Asensio to contribute? Do you expect him to contribute more towards goals?: "Yes, I think Marco is a goalscrorer. He is a very vertical player and I ask him to play with his qualities. I want him to look for the goal every time he plays, of course."
Could this be Asensio's year?: "Yes, of course. He is an important player. He has always been like this. What he has to do is recover his level to 100%, both physically and technically. He is preparing to have a great year. I am convinced of that.
Rotations, how do you deal with players who come in and out of the team?: "We talk from coach to player and from player to coach. Since I arrived here as a coach, I have always done the same. I have a squad of 23-24 players and to win titles in 60-65 games we need everyone. It's what all the coaches are doing. Before there were 30-35 games and one player could play them all. Now, it's not like that. And then there's the Champions League, and more games. I've always made rotations."
Does the team have more character than heart?: When we are on the field we have to try to do well. The rest we do not control. We cannot control that we are always criticized. We have to be united and even more so in times of difficulties. Three, five, ten years ago ... it's always the same here: every time there is a little difficulty, there is always a lot of talk. Our thing is to unite and move forward."