Koeman: "We want to sign Eric García"
The Dutch coach spoke before Sunday's match against Sevilla. "We know that Sevilla are strong and they have a very good coach."
Are Sevilla the biggest test to date?
Sevilla are strong and it will be a difficult game, but we're playing at home, we have two victories and we're confident in ourselves.
What do you make of the enthusiasm of the Barcelona fans?
We have only been together for five weeks, the team and the staff, and we are working well. It was noticeable against Celta, where we won suffering with one man down. I love the hunger of the team.
Are you optimistic about the signing of Eric García?
It's true we want Eric Garcia here. I've seen Pep's comments and that's how it is. I hope we get it done but we know the situation is tough financially. There's interest, but I don't know if we will get it over the line
What do you know about Dembélé?
I can't say much about Dembélé, his place in the team depends on the rival and how he is in training. His future? I haven't yet seriously spoken to him about that.
Can Sergiño Dest play tomorrow?
I don't know if he will be in the squad. We're waiting for his paperwork to be resolved. He has a lot of quality, at 19 he has already played at the highest level. We're improving ourselves with him coming in.
What is the reason for the changes in the team?
If we're talking about this season it is not a criticism of the past structure, but I am looking for intensity in training because I think you play as you train. We have also improved physically and it shows..
How do you see Coutinho?
He's a very good player and has also learned a lot during his stay at Bayern. My role as a coach is to get the most out of each player and that starts with putting the players in their correct position.
How do you feel about the Champions League draw?
We can be happy, but not overly confident. It seems that Juventus and us are the stronger teams, but the group stage will be very tight. It is important to win the first game.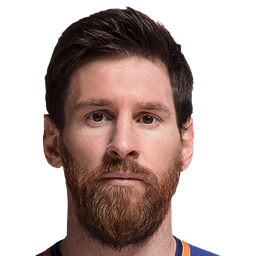 Are you happy with Messi?
Messi has always trained and played at his maximum level, he has done everything for the club and the team and I have no complaints. There is no discussion, for me he's the best player in the world and he's very focused.
Still waiting for Memphis Depay to arrive?
There are two positions in the team where a signing would do us good. A centre-back & a No.9. We have competition in attack but we're going to have many games and these are two positions that would help us to have one more.
Have you told Dembélé that he will get minutes?
There is a lot of quality and competition. Ansu is ahead of Dembélé. If a player is unhappy, let him speak to me. Ousmane has not told me anything. If he stays, I count on him and he will have options to play.
What do you want to improve in the team?
We can always improve things, but overall I am very happy. Our attitude is very good and I hope we continue like this.
Who would you clone from the Dream Team for this team?
Which player from the Dream Team would I choose to reinforce the current team with? Myself. (laughs)