Mariano plus €20m for Zidane target Aouar
Speaking in a press conference on Saturday, Zinedine Zidane praised Lyon midfielder Houssem Aouar, suggesting he could wear the famous white shirt. "He is a great player. Maybe one day he could play for Madrid".
Speaking in a press conference on Saturday, Real Madrid manager Zinedine Zidane had the following to say when asked about interest in Lyon attacking midfielder Houssem Aouar.
"I do not know what information you have. I have no doubts about this player, he is a great player. Maybe one day he could play for Madrid, but today we have this team and I am focused on the players that I have right now. From 5th October, these sorts of questions will no longer be asked."
L'Equipe already revealed on Friday the interest of the coach in the Lyon midfielder, who last year finished with nine goals in 41 games. The French outlet reported that Zidane himself had spoken to Aouar regarding a possible move to Madrid.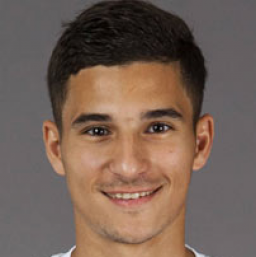 Between now and Monday it is difficult to get a deal across the line, given that Los Blancos insist that any future signings will be postponed until 2021. But as AS understand, Lyon would consider a transfer in exchange for €20 million and the inclusion of Mariano Díaz as part of the deal. Mariano played with the Ligue 1 side three seasons ago, scoring 21 goals for the French team in a successful stint. According to the website Transfermarkt Aouar is valued at €49.5 million, therefore Mariano plus €20 million would be good business for Madrid. Mariano is not currently in Zidane's plans for the 2020/21 season.
It's hard to imagine a deal being struck between now and Monday, the final day of the transfer window, but we must remember that Zidane's public praise so far has only been for Mbappé, Pogba and Aouar. This new talent in French football has already been called up by the France national team. Arsenal, PSG and Manchester City have enquired about the gifted midfielder. It remains to be seen whether the 22-year-old will get a move in the next 48 hours or if we have to wait until the summer of 2021 for Real Madrid to make a star signing.