Second stimulus check: How Trump's hospitalization could affect coronavirus relief bill talks
There had been significant progress made in talks on a second stimulus bill before President Donald Trump was admitted to hosital following his coronavirus diagnosis on Friday.
Some decent headway has been made on a second coronavirus stimulus bill over the past week. But President Donald Trump's hospitalization due to coronavirus has cast uncertainty over proceedings.
While the president remains in Walter Reed hospital over the coming days where doctors will closely monitor his situation, Republican and Democrats are expected to continue talks with the aim of hammering out a deal on a second relief package, which could include a second round of $1,200 stimulus checks.
Second stimulus bill: both sides express optimism
On Friday, both sides expressed cautious optimism regarding negotiations on the second stimulus bill.
"I'm trying to figure out here whether I should predict another bill quickly or not," said Republican senate leader, Mitch McConnell. "But the talks have speeded up in the last couple of days. I think we're closer to getting an outcome."
Meanwhile, in a letter addressed to House colleagues Friday, Democratic speaker Nancy Pelosi stated that negotiators were working "quickly to facilitate an agreement", but outlined that there a number of issues on which both sides would need to make compromises, including enhanced unemployment benefits to local funding.
"We are expecting a response from the White House on these areas and others with more detail," Pelosi wrote. But it is unclear now how and when the response might come from the White House now that Trump is hospital.
Although, the president did make it clear that he expects both sides to continue working towards a deal with a tweet from his hospital room on Saturday. "Our great USA wants & needs stimulus. Work together and get it done. Thank you!" Trump wrote.
Possible impact of Trump's diagnosis on stimulus bill talks
It remains to be seen if or how the recent surge in coronavirus cases among Republican leaders and those close to Trump could impact negotiations on the second stimulus bill. On the one hand, the situation could lead to a pause on the recent progress made. Although on the other hand, the rising case numbers among GOP leaders may also prompt negotiators to work faster to iron out a deal.
Pelosi, for one, believes that Trump's diagnosis could serve as a wake-up call for Republicans who have so far been reluctant to agree to Democrat's spending proposals. Democrats have been looking to get Republicans to agree to spend between $2.3 and $3.4 trillion on a package that would give states the capacity to fight the virus, as well as boost their economies. But Republicans have so far been unwilling to go much beyond $1 trillion.
"This kind of changes the dynamic because here they see the reality of what we have been saying all along - this is a vicious virus," Pelosi said. "[...] We always have to find a path, that is our responsibility to do so, and I believe that we will."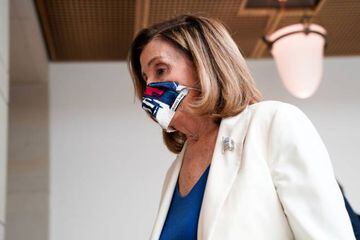 Talks to continue between Pelosi and Mnuchin
With Pelosi having reportedly continued talks with Republican chief negotiator Steve Mnuchin this weekend, the pair will be expected to push forward towards a deal over the coming week as lawmakers in the House returned to their districts to focus on the presidential and congressional elections on 3 November.
But they have been told by House Majority Leader Steny Hoyer (D-Md) to be ready to be called back to Washington, DC at 24 hours' notice to vote on a package if one is agreed.
If a bill is eventually passed, it will have to be signed into law by President Trump. But if the president were to become incapacitated as a result of the coronavirus, the responsibility would fall on vice-president Mike Pence.
Trump says he doing well amid mixed reports
There were mixed reports regarding the president's condition on Saturday, with one White House source claiming that the president's condition is 'worrying'.
In his latest video address from Walter Reed hospital, the president himself said he was doing well but admitted the real test would come over the proceeding 48 hours.
"We're working hard to get me all the way back ... I think I'll be back soon and I look forward to finishing up the campaign the way it was started," he said.
"I'm starting to feel good. You don't know over the next period of a few days, I guess that's the real test, so we'll be seeing what happens over those next couple of days."
Trump will remain at Walter Reed hospital over the coming week, where his suite has been setup to allow him to continue working ahead of the election on 3 November.