Real Madrid: Vinicius and Benzema ensure three points
On-the-whistle match report
Real Madrid extended their LaLiga unbeaten run to 15 games with victory over Levante, their third consecutive win this season, which puts them top of the table with 10 points after four games played.
Vinicius hit a stunning strike in the 15th minute to give Madrid the lead. But the second goal did not come until minute 95, when Benzema wrapped things up in the dying seconds by putting the finishing touch on a quick Madrid counter attack. And with that, the game ended 2-0 to Madrid, who had lost this fixture 1-0 last season.
Levante had tested Madrid on several occasions but were unable to put the ball passed Courtois, who was forced to make some decent saves in the final twenty minutes. The loss leaves Paco Lopez's side in 18th place with three points. Next up for Madrid is Cadiz on 18 October after next weekend's international break.
Peep, peep, peep! And Benzema's goal is the last action of the game. It was a nervy last 20 minutes for Madrid with the score at 1-0. But the Frenchman stepped up in the end to secure the victory for Los Blancos.
Goal Madrid, goal Benzema!!! Levante had eleven men in Madrid's half when they lost the ball in the middle of park, which allowed Madrid to release Benzema in acres of space. The French forward rushes forward with the ball, skips around one defender and then guides the ball into the net.
Miramón goes into the book for a foul on Rodrygo.
The clock goes into injuty time, with five minutes of added time to be played.
Two changes for Madrid: Odegaard and Isco on, as Modric and Valverde go off. Modric has arguably been Madrid's best player today.
Chance Madrid! Modric plays a short pass from the free-kick set piece to Mendy, who drives a shot towards the Levante goal. Fernandez does well to save.
Levante have had more fight about them in the last 10 minutes. They may make Madrid regret not taking their chances earlier on in this second half.
Bardhi with a chance for Levante! But Courtois comes to the rescue again and saves the shot from 18 yards out.
Chance Levante! Bardhi plays the ball wide to Clerc in plenty of space on the left side of the box, but Clerc's shot is saved by Courtois. It was an acute angle for the shot.
Lucas is on the pitch two minutes and he is already on the floor in pain after a nasty clash with Bardhi, who goes in the book for his challenge on the Madrid replacement.
Two changes for Madrid as Vinicius and Asensio make way for Rodrygo and Lucas Vazquez.
Now VAR is reviewing the Ramos goal. It did look like the ref made the right decision. He definitely placed his nads on the back of the Levante defender. In the end VAR rules out the goal for offside!.
Ramos has scored with his head from a Modric free-kick delivery. But it's ruled out because the Madrid captain shoved the Levante defender as he jumped for the ball. No complaints from Madrid.
Levante have made two changes so far: Roger and Vukcevic have made way for Jorge de Frutos and Melero.
Levante coach Paco Lopez is in deep conversation with his number two. They really need to change something here if they want to take something from this game.
Chance Levante! What a strike from Bardhi, who fires an absolute rocket from mid-range. Courtois does well to save.
Another chance for Vinicius! The Brazilian plays the ball wide to Benzema in the box, who plays a quick one-two but Vinicius steers the ball wide close to the six-yard area.
Benzema hits the post! A huge defensive blunder allows Modric to intercept and pass the ball to Benzema. The Frenchman had just the keeper to beat but he strikes the post. Less than a minute later, a Vinicius strike also hits the same post. Levante hanging on by a thread.
Madrid have started strong and are putting immense pressure on Levante. It feels like a second goal could be coming soon.
Great link up play from Madrid ends with Modric falling in the box as he stretched to latch on to a through ball, Madrid are appealing for a penalty. But a quick VAR check shows Modric was not impeded by the Levante defender and fell over himself.
Peep!! Levante get the second half underway.
The teams are in the tunnel and getting ready to head towards the pitch for the second half.
Peep, peep! Only one minute of injury time is played and that is in the end of the first half. Madrid have played well, but Zidane will be urging his players to score a few more in the second half to kill the game.
Into injury time here at the end of the first half.
Chance Levante! Bardhi plays a fast and dangerous cross into the box from a retreated position towards Morales, who would have only needed the slightest of touches to guide it into the goal. But the ball was just inches too far ahead of him.
Chance Benzema! Casemiro floats a beautiful cross towards Benzema on the edge of the six-yard area, but the Frenchman guides his header wide of the target.
Levante hit the crossbar! Great corner cross comes in from the left which allows Vukcevic to connect with his head six yards out. Courtois was beaten but the ball rattles the cross bar. Madrid very lucky there to have not conceded.
Madrid passing the ball around here and controlling things as Levante struggle to win the ball. Modric has had a major impact so far for Madrid with some decisive passes. Vinicius seems to have been working on his shooting over the summer break. It was one element of his game that was lacking last season but his finish in the 15th minute was incredible.
Modric releases Vinicius down the left and it's two attackers on one defender for Madrid. Vinicius plays the ball into the path of the onrushing Benzema but it's not a great pass and Benzema has to stretch for it before taking a shot that is blocked by the Levante defender.
Modric has another corner on the right and the ball again flies toward Vinicius in the same position as he was in for the goal a few minutes earlier. But this time he has to track back to reach the ball and nothing comes of it.
Goal Vinicius!!!! Modric takes the corner from the right and the ball ends up at the feet of Vinicius at the other side of the box. The Brazilian takes a look before expertly bending the ball into the far top corner!. Golazo!
Nacho, who is playing as right back in the absence of Carvajal and Odriozola, fouls Morales. Thirteen minutes gone here and neither side has really had a clear-cut chance.
A decent piece of Madrid build-up play comes to an end after Modric mistimes a pass to Mendy on the left in Levante's third.
Asensio is released by Modric in the box, but the Spaniard's shot from close range is blocked.
Chance Levante! Fernandes was trying a cross but he almost guided the ball into the far corner.
Casemiro receives a yellow card after a nasty clash with Malsa that left both players in pain.
Madrid have a corner after a Modric cross is cleared. But Los Blancos can do nothing with it.
The captains come together in the centre with referee Montero and his assistants. Hand bumps all round as the Levante players drop into a circle for final words of advice and motivation.
Almost time to go...
The players and officials are in the tunnel as we look out over a lovely sunny football pitch awaiting their arrival. Interesting music selection from the tannoy controller...
Levante form
Levante come into the match having lost two and won one – with their last game ending in a 3-1 victory against Osasuna. After that convincing away win and knowing they were able to get one over Los Blancos last season (1-0), confidence will be running high among Paco López's side.
Mariano plus €20m for Zidane target Aouar
Mariano plus €20m for Zidane target Aouar
As Real Madrid underwent preparations for today's clash against Levante, transfer talk this weekend has focused on Lyon's Houssem Aouar, a repoted targer of Zidane. Read more...
Real Madrid women's team lose first-ever game 4-0 to Barcelona
It's a historic day for Real Madrid as the newly establised women's team played their first game today against Barcelona. However "Las Blancas" have just lost 4-0 against Barcelona in the first ever feminine Clásico.
Levante starting XI
Levant have announced their starting line-up:
Aitor, Roger, Bardhi, AJ Morales, Malsa, Ruben Vezo, Postigo, Vukcevic, C.Clerc, Miramón, Campaña

Madrid announce starting XI
Zinedine's teamsheet is in:
Courtois, Mendy, Nacho, Ramos, Varane, Modric, Asensio, Casemiro, Valverde, Vinicius, Benzema.
Real Madrid arrive at La Cerámica
Real Madrid arrived at La Cerámica a short time ago, where Zidane will be without Eden Hazard, and both right backs Dani Carvajal, andAlvaro Odriozola, while Eder Militao is also available.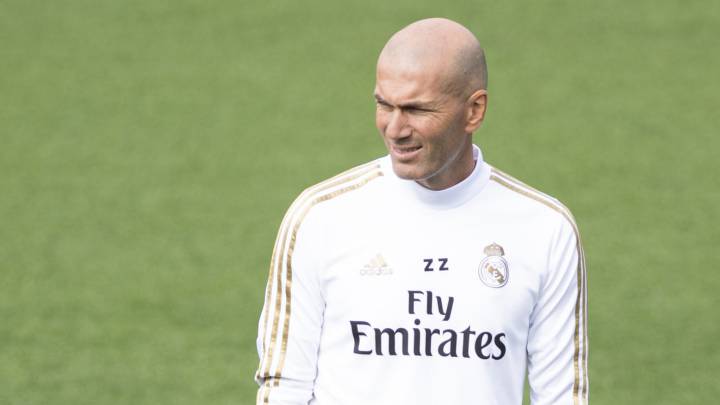 Zidane responds to reported interest in Lyon's Aouar
Zidane responds to reported interest in Lyon's Aouar
Zinedine Zidane tended to the media in a press conference on Saturday ahead of today's meeting with Levante. The French coach discussed the game at hand, his reported interest in Lyon starlet Houssem Aouar, injuries to Dani Carvajal, Eden Hazard and Álvaro Odriozola, and why he believes this could be Marco Asensio's year. Read more on what he had to say...
Real Madrid could extend unbeaten run to 15 games
Real Madrid will look to extend their LaLiga unbeaten run to 15 games, after a limp 0-0 draw in their opening LaLiga 2020/21 fixture against Real Sociedad was followed by two wins on the trot against Real Betis and Valladolid.
But the Zinedine has said he is preparing to face "a very difficult opponent" in Levante, who won the corresponding fixture 1-0 last season. Although, this season the game will be played at Villarreal's La Cerámica stadium as Levante's Estadi Ciutat de València is currently undergoing improvement works.
Welcome!
Hello and welcome to our live coverage of Levante vs Real Madrid. The match gets underway in about 45 minutes, so until then you can follow the build-up with us here.