Mexican players join national team ahead of FIFA break
Mexico's national team has two games in Europe in this international break. They will face Netherlands on 7 October and six days later will play Algeria.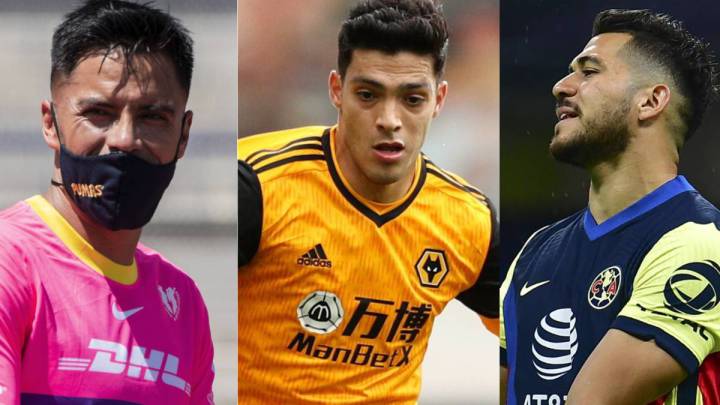 Mexico's national team easily defeated Guatemala 3-0 in the first friendly post the coronavirus pandemic back on 30 September at the Azteca stadium. For the game the coach Gerardo Martino only called the players from the Liga MX because it was not part of the FIFA international break.
For the games against Netherlands (7 October) and Algeria (13 October) however, Martino has called up 26 players including the ones that play in Europe. The only one that will not attend the call is Hirving Lozano after he tested positive for Covid-19 and remains quarantined under Napoli's care until he gets better.
Gerardo Martino decided to call Orbelín Pineda from Cruz Azul to replace Lozano for the games in Europe. The names of the following players stand out for what they have done with their clubs since the new season started in their respective countries amid the coronavirus pandemic.
Alfredo Talavera
Since Guillermo Ochoa got injured Martino decided to call the Pumas goalkeeper for the two games in this FIFA international break. Talavera has three clean sheets in 17 games with Pumas in the 2020 Guardianes tournament.
Luis Romo
Cruz Azul is having a fantastic 202 Guardianes tournament and Romo is a big part of the positive results the team is having. The coach from La Maquina Robert Dante Siboldi decided to move Romo from the defense to the midfield and he has been very efficient in his new role. The proof of that is that he has been called to Mexico's national team.
Carlos Rodríguez
He has been a fundamental player for Monterrey for the past two years and in 2019 he received his first call to Mexico's national team. This tournament he has played all 13 games with Monterrey and only once was he came in from the bench.
Raúl Jiménez
He has become one of the best strikers of the Premier League and Wolverhampton decided to extend his contract one more year (until 2024) because of that reason. Last year he scored 17 goals in 38 league appearances with the Wolves and he has consolidated as Mexico's starting striker for Gerardo Martino.
'Tecatito' Corona
Jesús Manuel Corona is another Mexican player that is shining in Europe. He is a starter in Porto and last season he was named the team's and the leagues' Most Valuable Player. He has shown that he can play as a right back, but his best performances are as an attacking winger.
Henry Martín
He currently is the best Mexican striker in the Liga MX and he has shown a good partnership with Federico Viñas in Club América. Martín has scored five goals in thirteen games in the 2020 Guardianes tournament and he scored in Mexico's last friendly match against Guatemala.
Alan Pulido
The 29-year-old striker has shown a quick adaptation to Major League Soccer and so far he has scored six goals with Sporting Kansas City this season. This is the first time he is called to the national team since Gerardo Martino took on the job as coach.