Brahim Díaz: AC Milan's on-loan Real Madrid starlet talks to AS
In his first interview since leaving Real Madrid on a year-long loan, Brahim Díaz spoke to AS about how he's settling into life in Serie A.
In his first interview since leaving Real Madrid for AC Milan on a season-long loan, Brahim Díaz chose to speak to AS.
Díaz's start to life at the San Siro couldn't have gone better: Milan have won every game so far this season, and the Spain Under-21 forward has caught the eye with his displays for the Rossoneri.
How are you settling in over in Italy?
Really well. I've been given a really warm welcome. I'm really happy, we're on a good run of form and hopefully we can carry on in this vein.
Were you expecting to settle in so quickly?
It usually takes a bit of time to settle in, but in my case it's been really quick. I'm really happy, in an ambitious group of players who are a great bunch of lads and have a lot of ability. We're desperate to achieve big things.
What's the difference between England, Spain and Italy?
The game is different in each country. In Italy it's a bit more tactical, with a physical side to it too… In terms of your development as a footballer, it's really good to have played in three different countries.
What's it like working with Zlatan Ibrahimovic?
It's no secret what a top player and dressing-room presence he is. He's a great guy who really tries to help you.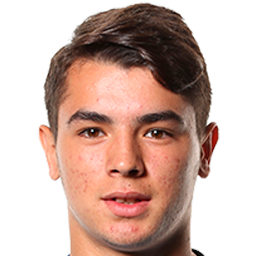 Half of Europe wanted you; why did you choose AC Milan?
It's true there were a lot of offers, but Milan are a historic club with a great project in place, who have been winning pretty much week in, week out since lockdown. The warmth they showed me and the interest they had in signing me made me go for this great club.
Was your decision influenced by a desire to help get Milan back where they belong?
They're a huge club with so much history, and they have a great project in place. We've got a great group of lads, we're on a winning run and we're looking to keep that going. The aim is to be like the Milan of old once more, and I think the club is on course to achieve that. There's a lot of excitement and we have a winning team.
Why did you decide to leave Madrid this summer? What changed?
I wanted regular football, to feel like I'm getting game time under my belt and am there to play. Nothing has changed: I want to be myself and show the football I can play. I feel like an important player at Milan and it's time to grow, learn and improve.
What's your relationship with Zinedine Zidane like?
I have a lot of affection for Zidane. He was a legendary player and has now shown he's a winner as a coach, too. He has always given me good advice. What he's said to me is between me and him.
So you didn't have any problems with Madrid?
I'm focused on Milan and I'm only thinking about giving my all for them. I've got a lot of affection for everyone at Madrid…
Do you regret signing for Madrid?
Absolutely not! It's Real Madrid…
Are you confident you'll be a success at Madrid in the future?
I'm focused on Milan this year. I want to give 100% for them and then we'll see…
Are you raring to demonstrate your abilities in the professional game?
Yeah, that's what I want: to show the potential I have. Show the world what I can do. Hopefully I can perform well.
Could you clear one thing up: are you right or left-footed?
[Laughs] I always like to leave that one up in the air, because that way my opponents won't know. I play with both feet; I've got that ability. When I'm shooting I'm right-footed and when I'm carrying the ball I'm left-footed. But I can shoot with my left and dribble with my right, too. It just depends…