"I was alone": Benzema recalls early difficulties at Real Madrid in candid interview
"I hadn't mentally prepared myself for what Real Madrid meant – the club, the people, the pressure, the city," Benzema admits in an interview with Jorge Valdano.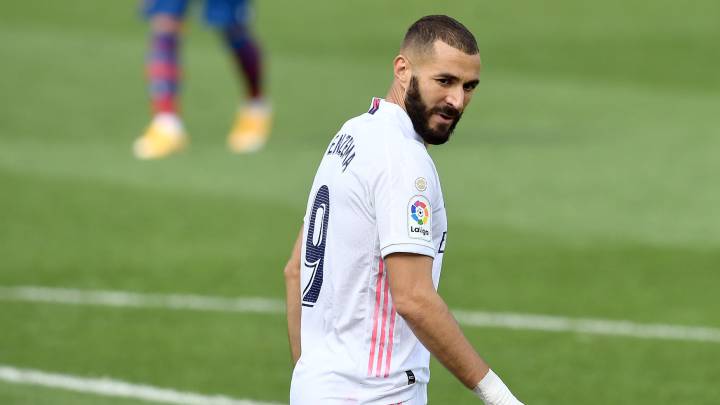 On Wednesday Spanish TV channel Vamos will broadcast Universo Valdano: Benzema, in which former Madrid player, coach and general manager Jorge Valdano speaks exclusively to Karim Benzema.
During the wide-ranging interview, the French striker, who began his 12th campaign at the Bernabéu this season, discusses his arrival at Madrid and those first difficult months, his first meeting with Florentino Peréz, and how it felt to arrive in a dressing room full of stars.
Benzema's early isolation at Real Madrid
In the conversation at Real Madrid's Valdebebas training ground, Benzema recalls his initial feelings of isolation when he arrived at the club from Lyon for €35 million in 2009.
"I hadn't mentally prepared myself for what Real Madrid meant – the club, the people, the pressure, the city," he tells Valdano.
"I was alone, I didn't speak Spanish. It was difficult, if you don't feel good off the pitch, it makes things very difficult on it. That happened to me the first year."
Benzema's first meeting with Peréz
Florentino Peréz was the man responsible for bringing him to the Bernabéu during his first tenure as president and has always been Benzema's greatest defender.
In the interview with Valdano, the Lyon-born forward also recounts his first meeting with Peréz, who had surprisingly turned up to his family home in the Bron district of Lyon in a bid to sign him.
"My friends, my family and my agents told me: 'you have to come home'," he recalls.
"I told them I couldn't but they insisted: 'you have to come, Florentino Pérez is here'. I opened the door and saw him. I remember what he asked me: 'Do I have your word? ... and I said 'Yes, of course'."
Benzema on Real Madrid role
Benzema also gave an insight into his own understanding of the role of a forward in his chat with Valdano.
"The forward has to know how to do a lot of things, not only score goals. I can score a goal, but if I don't touch the ball in 90 minutes, that's a problem," says the Frenchman, who is currently Madrid's fifth highest goal scorer of all time with 250 goals.
The Universo Valdano program with Karim Benzema will be broadcast on Wednesday, 7 October at 10:30pm (CEST) on #Vamos on Movistar Plus.