Atlético contemplating signing Kondogbia from Valencia
According to 'SER Deportivos Valencia', the rojiblancos are studying the viability of signing French midfielder Geoffrey Kondogbia as as replacement for Thomas.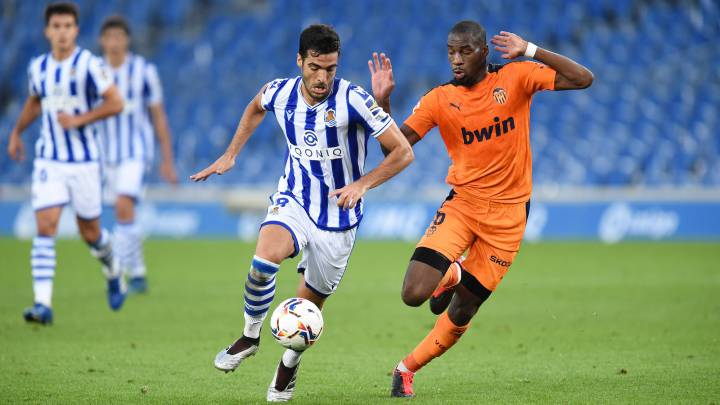 Atlético suffered a nightmare blow on the final day of the transfer window, unexpectedly losing one of their first choice players - Thomas Partey, who is on his way to London after Arsenal came up with his 50 million euro buy-out. Seeing as the the operation was completed by unilaterally rescinding the player's contract, the rojiblancos have one month to sign a replacement, if they want to. However, they will only be able to sign a player who is out of contract or from another club in LaLiga. That gives Atleti numerous options - among them Levante's Campaña, who they have been interested in before. But there is another candidate: Geoffrey Kondogbia.
Atlético have around 11 million to spend
According to radio programme SER Deportivos Valencia, Atleti are compiling information about all of the possibilities open to them in the domestic market. LaLiga regulations stipulate that the club can only spend 25% of the fee they received for Thomas (45 million euros for 90% of the player's economic rights - Leganés have the other 10%). Which means they have 11.25 million euros to spend either on the salary of a player who arrives on a free transfer or a direct transfer. That reduces Atleti's options - making players like Mikel Merino or Campaña out of reach.
Valencia's Kondogbia could leave for a lower fee than Campaña or Merino because club owner Peter Lim is eager to balance the books - and reduce the squad's wage bill. Lim has already offloaded several players with high wages and selling Kondogbia would help lower costs even further. One person could scupper the operation however and that is Javi Gracia. The coach has lost some of his most important players over the summer including Rodrigo, Ferrán, Parejo and Coquelin and no players have come in to replace them. If he loses another player, he could give Lim and ultimatum, threatening to resign if Kondogbia leaves.