Gonzalo Higuaín scores first goal in Major League Soccer
The best way to respond from missing a penalty is by scoring a golazo and that is what Gonzalo Higuaín did in his third game with Inter Miami.
It took three games for Gonzalo Higuaín to score his first goal in Major League Soccer. The Argentine striker gave Inter Miami a 2-1 victory over NY Red Bulls in week 16 of the Major League Soccer. The 32-year-old scored a stunning free-kick in the second half of the game and he celebrated by hugging Inter's coach Diego Alonso.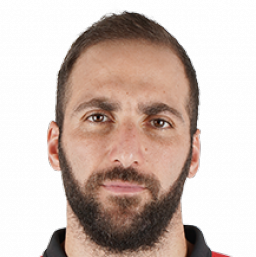 New York Red Bulls scored first in the 53rd minute and two minutes later Inter Miami's was able to tie the game thanks to Matías Pellegrini who scored his first goal of the season. Towards the end of the game Matuidi and Gonzalo Higuaín standing in front of the ball in a free kick that would change the game.
After the referee blew the whistle Higuaín rifled the ball into the opposite corner of the net and there was nothing NY Red Bulls goalkeeper Jensen could have done. According to OptaJack, Higuaín's first Major League Soccer goal came from a direct free-kick after not surprisingly never scoring from a direct free-kick in his 428 matches during his time in the 5 Major European leagues.
What is next for Inter Miami?
This was Inter Miami's fourth victory of the season and currently they are in 12th place of the Eastern Conference with 7 games left of the regular season to make a run for the playoffs in their debut season.