French Open Final 2020, Nadal vs Djokovic: how and where to watch - times, TV, online
Serbian Novak Djokovic faces off against a familiar foe in Spain's Rafa Nadal on Sunday 11 October. Find out all you need to know ahead of the match.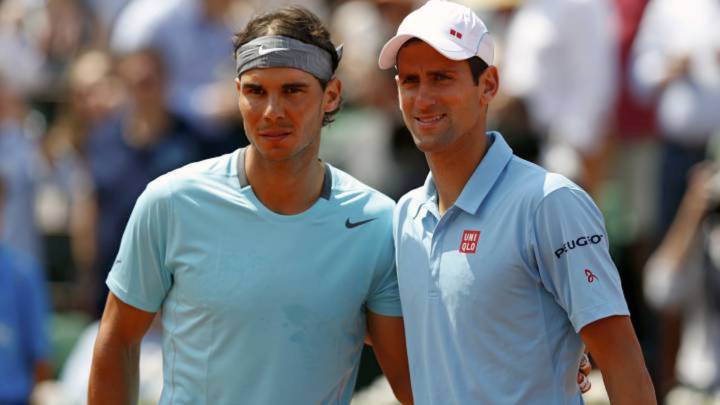 2020 may have been an unpredictable year, but when it comes to the French Open, at least some things have remained consistent. On Sunday afternoon in Paris two familiar foes take to the court at Roland Garros for the final that will be their 56th clash. Whoever comes out victorious between Rafa Nadal and Novak Djokovic, it's history in the making.
To beat Djokovic, 'Nadal will have to play his best tennis'
The final provides further records for the Spaniard to claim or extend. First up, a win would see him equal Roger Federer's 20 Grand Slam titles. This has only been bettered in the world of tennis by Margaret Court (24), Serena Williams (23) and Steffi Graf (22). It would also take his French Open championships to an unparalleled 13, a love-affair that would take Nadal's wins to an incredible 100 from 102 matches.

But despite the dreams that lie ahead for the boy from Mallorca, it's going to be an uphill struggle. As his uncle and former coach, Toni Nadal, put it to Eurosport:
"It is a final that is going to be complicated [for Nadal] because there are a lot of factors in favour of Novak Djokovic," he said pointing to the heavier ball that will not react as much to the Rafa spin and consistent form this year.
But could Nadal do it? There was a simple answer: "I trust my nephew," but a word of advice followed:
"[Rafa] knows he has to raise his level. And when he had to raise it, he always succeeded. This Sunday he will have to play his best tennis."
French Open men's final 2020: what time does it start?
The Roland Garros men's final 2020 takes place on Sunday 11 October at 15:00 local time (CEST) in Paris, France. This is 09:00 ET and 06:00 PT.
Find out what time that is where you live in the world.
French Open men's final 2020: how can I watch it?
Viewing options around the globe:
Australia: Fox Sports Australia, SBS, Kayo
Brazil: Band Sports
Canada: TSN, RDS
China: CMG
Europe: EuroSport
India: Star Sports
Japan: WOWOW
Latin America: ESPN
North Africa/Middle East: BeIN Sport
United Kingdom: EuroSport, ITV4
United States: NBC Sports, Peacock and Tennis Channel
Southeast Asia: Fox Sports Asia
Sub-Saharan Africa: SuperSport, Canal+
Major win No. 2️⃣0️⃣ or 1️⃣8️⃣?

The stage is set for a final with historic implications 👇#RolandGarros

— Roland-Garros (@rolandgarros) October 11, 2020
French Open men's final 2020: is it available online?
The Roland Garros men's final in Paris is available in most countries through the rights holders' online platform, if they have one.
Your best bet is to check who is broadcasting the game in your country and see if they have an online platform or iOS or Android app to watch it through.