Nadal: "To equal Federer's record is an honour"
A day after winning his 13th Roland Garros and 20th Grand Slam, Rafa Nadal spoke to AS about his incredible achievement of equalling Roger Federer's record of 20 Grand Slam titles.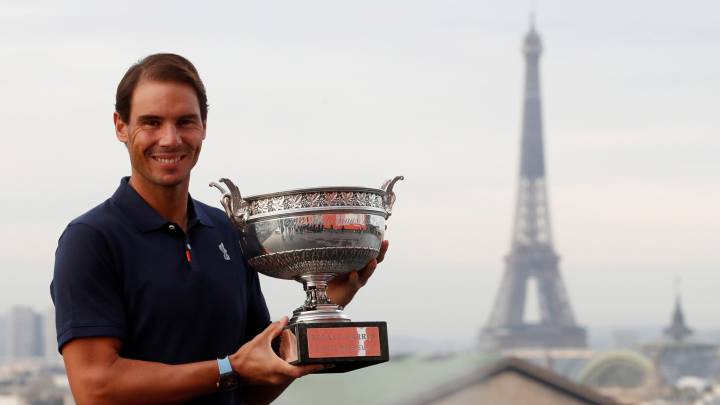 The day after winning Roland Garros for the 13th time and equalling Federer's record of 20 Grand Slam titles, on the way to the airport, Rafa Nadal spoke to AS and three other Spanish newspapers via Zoom. The Spaniard spoke about what his feat means, without being fully aware of the impact it had around the world.
When Nadal beat Novak Djokovic in the Roland Garros final on Sunday, not only did he lift a record-extending 13th Coupe des Mousquetaires, he also equalled one of the most important records in the history of tennis. For the first time, the Spaniard is on equal terms with Roger Federer on the Grand Slam titles leaderboard. Federer has held the outright lead for over 11 years, dating back to his 15th major championship victory at Wimbledon in 2009.
Nadal has been chasing Federer since his first Roland Garros victory in 2005, and the man from Mallorca has claimed 13 of his 20 major crowns at Roland Garros, winning 13 of the past 16 editions of the event and clinching 100 wins from 102 matches at Stade Roland Garros.
Did you ever feel at any point this year that you would not win at Roland Garros?
Of course. Every year that I go to Paris I think I may not win. But I do arrive with the hope of doing it, knowing that it may not happen. The normal thing is not to win, and I have that very much in mind and I said it from day one. Taking into account the conditions, this was the most adverse Roland Garros, also because the preparation in the last six months had been so poor with the lack of tournaments.
During the championship, you were seen in low spirits at times. Has the whole situation of the coronavirus pandemic affected you?
I wasn't sad, but I was a little duller than usual, I think it's a general trend all over the world. We are experiencing a sad time because you cannot share moments with the people you love and the situation is more unpleasant than what we are used to. You suffer for everything that is happening because, in the end, it is something unheard of in our lives. In the past there were other pandemics, but in recent history we had not experienced anything really and it is sad and worrying. When I have had to be happy, focused and with the right attitude during these past days, I have been.

Djokovic said that you had been much better tactically. What changed with respect to the previous matches?
My last match on clay against him had been in Rome. I remember that I went through a poor patch and then I won and I played very well, so I used that game as a reference and came out with a clear idea of what I wanted to do; the tricky thing is putting it into practice. Luckily, on Sunday we were able to put it into practice because my tennis was very good.
Can you already say that you are the best in the history of tennis?
Well, it is debatable. The stats have to be analysed by people who know the history of tennis. Honestly, it doesn't matter much to me either. I am happy with my career. It is clear that as of today, I am one of the best two. But we'll see what happens to Novak, what happens to Roger when he returns, what will happen to me. Hopefully, if all goes well we will have time to analyse it when our careers are over. Then, with all the data, a clear verdict can be made.
You once said that Borg fell away aged 26 because he couldn't handle the pressure. You are 34, how do you stay mentally strong?
In the end, we all go through good and bad moments, through stages of hope and disappointment, especially when we have had more physical problems. But I am fortunate to have a fantastic family and team that have supported me throughout my career. It helps to have a stable personality. I try not to get overly overexcited when things are going great, or negative when things are going badly. This helps me to do everything more calmly and gives me the opportunity to move on. Anyway, in the end it all comes down to having a passion for what you do.
Are you impressed by the impact your feat has had around the world and the admiration of a girl like Iga Swiatek, champion of the women's tournament?
I do not know what it has meant because I have not had the opportunity to look at practically anything yet. At a sporting level, something important has been won, firstly because one of the most important tournaments in the world has been won 13 times, and secondly because it has me tied at 20 titles with the great Federer. You have been talking about this for a long time and I understand it, because a record has been reached that seemed very difficult to match. I am very satisfied, very happy and I really appreciate the messages; also that of Swiatek, whom I must congratulate on her victory.

When so much has been won, what is now left to do?
For me, to continue enjoying the day to day. I am fortunate for all the things that have happened to me over the years. Up to today, life has been good to me. What is left for me to gain? I don't know, but the idea is always to move forward, because if you don't have the motivation to do what you do, it's time to dedicate yourself to something else. As long as I maintain that enthusiasm for playing tennis and competing, I will continue to push myself every day.
Does it make you proud that the day you equal Federer's 20 Grand Slam titles, the Swiss is the first to congratulate you with a letter?
I think we have a very good relationship and in a way we have great appreciation for each other. I think we have shared many of the most important moments of our career competing against each other. A rivalry was generated that has now gone far beyond the world of tennis. We value and appreciate it in a special way. Joining him on 20 titles means a lot, it is an honor and something beautiful.