Ronaldo congratulates Neymar after PSG star becomes Brazil's second highest goal scorer
Ronaldo Nazario has written a warm congralutory message to Neymar after the PSG striker overtook him on the Brazil all-time top scorers list.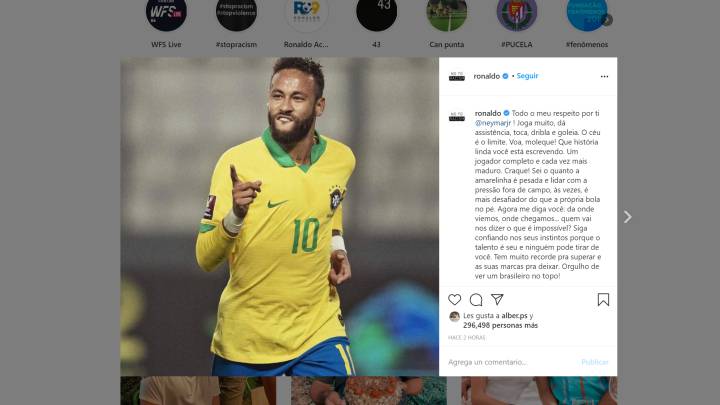 Ronaldo Nazario has been quick to congratulate Neymar after the PSG star surpassed him to become Brazil's second highest goal scorer of all time.
In his 103rd game for Brazil on Tuesday, Neymar scored a hat-trick against Peru to bring his total tally to 64 goals.
Before Tuesday's World Cup Qualifier against Peru, which ended 4-2 to Brazil, Neymar was one goal behind Ronaldo on 62 goals.
With Neymar now just 13 goals off Pele's 77-goal record, Ronaldo said the "sky is the limit" for the 28-year-old striker in an Instagram post dedicated to his young compatriot.
Ronaldo's message to Neymar
"You have all my respect, Neymar. You play a lot, you give assists, you pass, you dribble and you score. The sky is the limit. Now fly, my boy. What a beautiful story you are writing. A complete and increasingly mature player. Star," wrote the former Real Madrid and Inter Milan striker.
"I know how heavy the yellow jersey is and dealing with pressure off the field is sometimes a bigger challenge than carrying the ball at your feet. Now tell me: where did we come from, where are we going ... who is going to tell us what is impossible?
"Trust your instincts because the talent is yours and nobody can pull you down. You have many records to break and many marks to leave. Proud to see a Brazilian at the top."