Everton look to James to end 10 years of derby hurt against Liverpool
James Rodríguez, one of a rare breed of modern number 10s, will drive Carlo Ancelotti's Premier League leaders in the Merseyside derby on Saturday.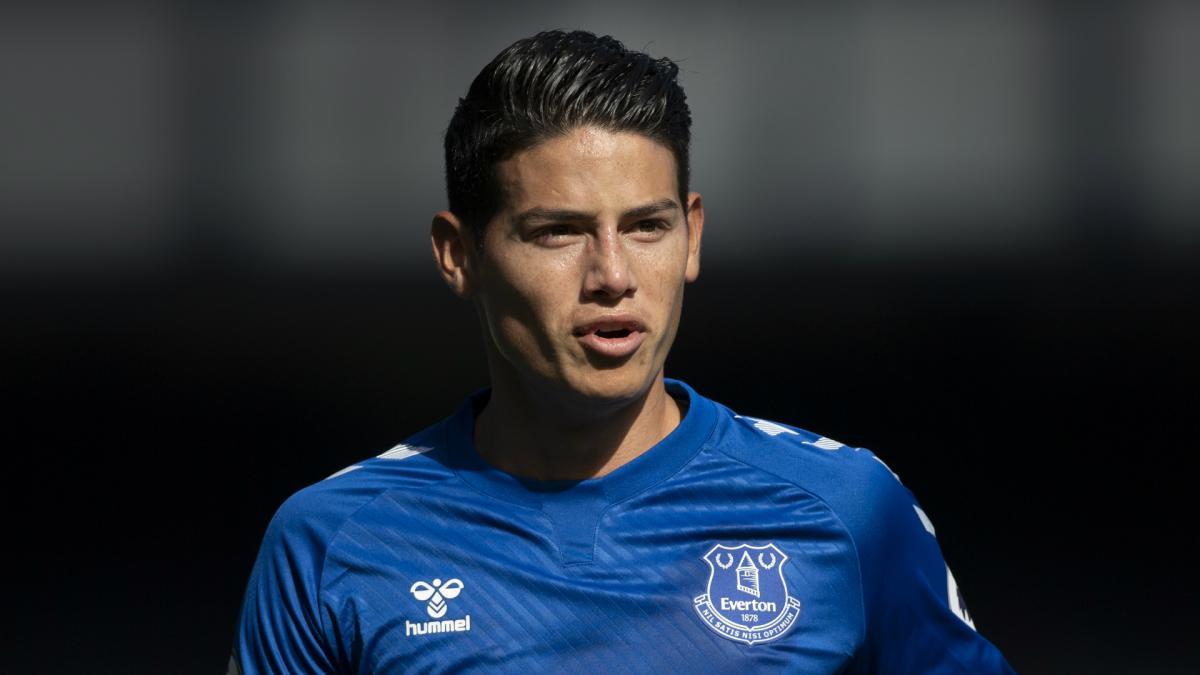 James Rodríguez's move to Everton invoked polarising opinions from fans and pundits alike – it seemed his signing was either destined to be a masterstroke or an expensive flop.
Many suggested that, while undoubtedly gifted, James' qualities were those of a bygone era when teams were built around a number 10 whose only real job was to create chances and score goals.
The common conception was that, in introducing a player who does little work off the ball, Everton were putting themselves at a disadvantage to every other team.
Even James himself recognises he is one of a dying breed, saying recently on the Locker Room podcast: "Everyone plays 4-4-2 or 4-3-3, hardly any kids want to be a number 10 now, because now the number 10s are being left out by the managers because they only want fast players who have one-on-one skills, can run, can play through the middle - 15 or 20 years ago, everyone wanted to be a number 10."
It's a well-known fact that James isn't much of a runner – he will never cover as much ground as someone like Kevin De Bruyne, but that's the point. He hasn't ever been that type of player – let him play to his strengths and he'll thrive.
If anyone knew how to get the best out of him, it was his former Real Madrid coach Carlo Ancelotti, and the Italian has expertly employed James, as we examine ahead of Saturday's Merseyside derby.
Ancelotti's James bond key to success
While James is certainly acting like the traditional number 10 for Everton, he's playing the role with his own unique spin, a way that has regularly seen both he and Juan Fernando Quintero thrive alongside each other at international level for Colombia.
Normally one would expect a player in such a role to occupy more of the central spaces, yet James operates initially from the right, allowing him to cut inside on to his left foot.
This creates a much greater area for him to do damage, as he can either dribble into the centre, play a diagonal pass out to the left, or look for a reverse ball into an advanced position on the right.
Not only is the pitch generally less crowded for him in this area, but were he deployed in a strictly central role, having such range of passing avenues without needing to turn would be unlikely.
This explains why Lucas Digne is the second most frequent receiver of passes (23) from James in the Everton team despite operating on the other flank, as the left-back is one of Premier League's best creators.
James knows this and regularly looks to the Frenchman on the opposite flank – together, they are Everton's greatest sources of chances this term (12 for James, eight for Digne). Similarly, the former Madrid star has picked out left-sided forward Richarlison for more chances (five) than he has anyone else.
But another key factor Ancelotti has had to consider, as highlighted already, is that James won't offer a huge amount when the Toffees aren't in possession.
Ancelotti surrounds James with hard-working, dynamic players. Allan is as tenacious as any midfielder in the league, while Abdoulaye Doucouré is a fine option as a box-to-box battler and Seamus Coleman is tireless at right-back.
With Doucouré and Coleman working close to James, Ancelotti's table-toppers often create overloads on the right flank, and as that attracts more defenders over to their side, that's when gaps can open up on the left for Digne.
Identifying the weakness
2 - James Rodríguez has scored 2+ goals in a league game for the first time since March 2019, when he netted a hat-trick for Bayern Munich against 1. FSV Mainz 05 in the Bundesliga. Arrived. #EVEBHA pic.twitter.com/YmSH0LAXbE

— OptaJoe (@OptaJoe) October 3, 2020
As much as Everton fans may not want to admit, there are certainly similarities between how they and Liverpool attack – the Reds' full-backs are key to the offensive phase of their play, while Mohamed Salah's cutting in off the left flank is a vital component in terms of chance creation.
With that in mind, it will be intriguing to see how they counteract each other's strengths, but there's no doubt stopping James will go a long way for the Reds.
The Colombian has three goals (joint fourth-highest in the league) and two assists (joint third-highest in the league) to his name, while only Salah, De Bruyne (both 14) and Son Heung-min (13) have produced more key passes than him.
Of the 12 opportunities carved out by Rodríguez, four were classed by Opta as "big chances", second to Harry Kane (six).
But he's not just involved at the end of attacking moves, as highlighted by sequence data – he has played a role in six different goal-ending sequences, a figure bettered by only four others, while James started two of them. Ollie Watkins (three) is the solitary player with a better number here.
Where Liverpool will need to pay particular attention, however, is with regards to their high line. The average distance from goal that their open-play sequences begin is 49.2 metres, meaning they play with a higher defensive line than anyone else in the division – this was exploited by Aston Villa in the 7-2 humiliation before the international break, and James will surely be mindful.
Uncharted territory… almost
James' importance to Everton is certainly comparable to Salah's influence on Liverpool – across all competitions the Toffees playmaker has created three more chances (17) than his rival, been involved in one more goal (six) and played the same number of passes into the box (31).
But where their different approaches are accentuated is their total touches in the area, with Salah at 47 and James on 10.
That's where others come in.
Dominic Calvert-Lewin and Richarlison may not have quite the same reputation as their Liverpool counterparts in Sadio Mané and Roberto Firmino, but there's no doubt the Everton pair have both started the season in exhilarating fashion.
So, although James is undoubtedly the key, Everton have several weapons capable of doing damage.
Saturday's game will be exactly 10 years on from Everton's last Premier League win over their bitter rivals. While a victory over the Reds might almost feel like uncharted territory for the Toffees, with James plotting their route, one has to think they've never had a better opportunity to sink a Liverpool side whose weaknesses have already been exposed.