The end of a drought, a landmark goal - when Cristiano Ronaldo broke Raúl's Real Madrid record
On October 17 in 2015, Cristiano Ronaldo became Real Madrid's all-time leading goalscorer. We look back at his time in Spain.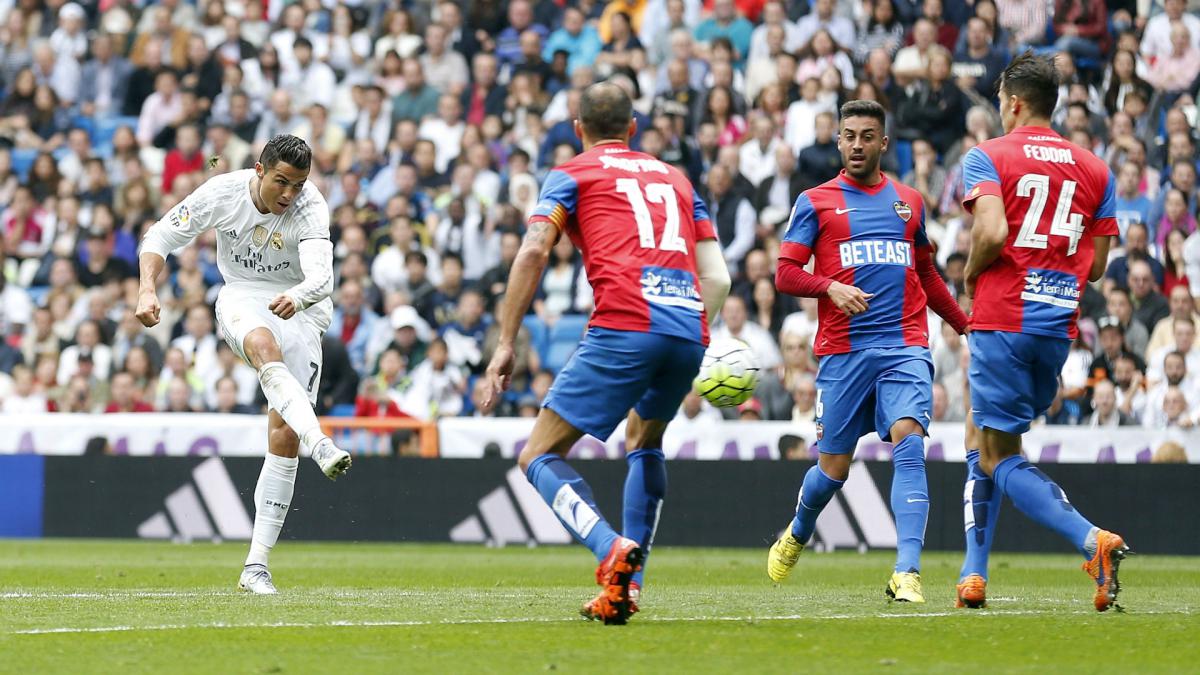 Scoring goals is not something Cristiano Ronaldo tends to find difficult.
He's demonstrated himself to be one of the most prolific marksmen in the history of football. Still, when the all-time goalscoring record at Real Madrid was within his reach, things started to dry up.
It speaks to Ronaldo's incredible attacking prowess that when he went into a LaLiga meeting with Levante at the Santiago Bernabeu on October 17 in 2015 on the back of a four-game stretch without scoring in the league, it represented his joint-worst run since arriving at Madrid in 2009.
During that streak, he missed three big chances – one in a 1-0 victory over Granada and two in a 0-0 draw with Malaga. He did not get any such opportunities in games against Athletic Bilbao or Atletico Madrid, however.
He may have been presented with the Golden Shoe prior to kick-off, but the mounting tension was evident when he went down in the box following a push from Simao Mate and Madrid were not awarded a penalty. On his knees, arms spread out wide, he lent back and roared in disbelief.
Such concerns quickly seemed to leave his mind, though, as he set up Marcelo for the opener.
Then the moment finally arrived. Toni Kroos pinched the ball off Zouhair Feddal and fed Ronaldo, but his pass forced the Portugal superstar to stop his run and step inside. After a couple of touches he let out all that pent-up frustration with a venomous strike into the bottom-right corner.
Ronaldo had done it. His 324th goal for Madrid, sending him past club legend Raúl and to the top of the scoring charts at one of football's most storied teams.
He didn't stop there, though…
A new breed
Ronaldo kept on firing in goals for Los Blancos until leaving for Juventus in a €112million deal in 2018.
In his nine years at the Bernabéu, Ronaldo scored an astonishing 450 goals in 438 games. An incredible 311 of those came in LaLiga, with long-time rival Lionel Messi (440) the only player to have scored more in the competition.
The five-time Ballon d'Or winner's effort against Levante five years ago was one of 14 he scored against them. It sounds like a lot, but they actually got off lightly. Ten teams received greater punishment from Ronaldo, with Sevilla the ones to suffer the most – he put 27 past them.
His best season came in 2014-15, when he scored a whopping 61 goals - as well as supplying 21 assists - in 54 appearances.
Laudable longevity
That was the second time Ronaldo hit 60 in a single campaign for Madrid (also in 2011-12) and formed part of a run of eight straight seasons in which he scored at least 40 goals.
The only season in which he failed to do so was in 2009-10, his first in the Spanish capital. However, he still struck 33 times and set up seven more in 35 games.
A European behemoth
Ronaldo enjoyed great success with Madrid in the Champions League, lifting the trophy with them four times to take his overall tally to five.
He was the first player in the competition's history to score 100 for the same club – he had 105 in total for Madrid – and set the record for goals in a single edition of the tournament when he notched 17 en route to glory in the 2013-14 campaign.
It was the third straight season in which he reached double figures in Europe for Madrid and he continued that form, making Champions League history by scoring at least 10 in seven successive campaigns.