Marcelo's recent form causing concern at Real Madrid
During Zidane's second stint as coach, Madrid have lost eight games with the Brazilian left-back in the starting XI - and none when he's been on the bench...
While the figures paint a clear picture, the television images are even more graphic. Cádiz's goal all began with Marcelo passively allowing José Mari the freedom to send over a cross for Negredo to nod back to Choco Lozano who stroked home.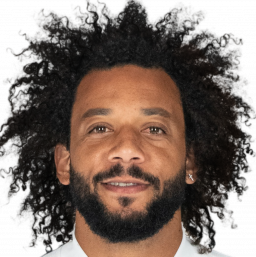 Marcelo slow to get back
Marcelo's wing was a free route for Salvi and Cádiz practically from the first minute. The visitors' first chance had Ramos scurrying back to clear a Negredo effort off the line. Ramos was called on again to make up for another lapse in concentration by the left-back and had to come out of his zone to stop Negredo. Marcelo was so out of position that he didn't even appear in the television replays of either move...
The numbers make worrying reading - Marcelo lost 18 balls, more than any other Madrid player on the day and it was not an isolated incident. Last season he lost 26 balls during the 6 February meeting with Real Sociedad then lost 27 balls in the following game against Celta. After that, he lost his place to Férland Mendy.
Zidane with just two options at left-back
Marcelo has been looking physically fragile for some time (he has suffered 10 injuries since the 2018-19 season) and only remains at Real Madrid because the coronavirus pandemic has impeded them from bringing in a new left-back. Last month, AS reported that he could leave the club in the most recent transfer window but his high wages and age put the breaks on a possible move to Inter Milan or Juventus. During the Real Madrid-Cádiz game, Antonio Romero mentioned on Carrusel Deportivo that the defender was close to joining the Vecchia Signora but the operation foundered when Juve offered Douglas Costa in part exchange - a deal which didn't interest Madrid. Marcelo, the team's second captain is a living legend at Real Madrid but his recent drop is form is alarming - and especially so after the club let Sergio Reguilón and Achraf Hakimi leave over the summer. Zidane still doesn't feel confident about bringing in Castilla's Miguel Gutiérrez, the most promising No.3 to have emerged from La Fábrica in recent years, as an alternative...