Courtois: "Ramos is our captain, of course we'll miss him"
The keeper spoke ahead of Real Madrid's Champions League opener against Shakhtar: "Now we are winning by the minimum, my role is noticed more".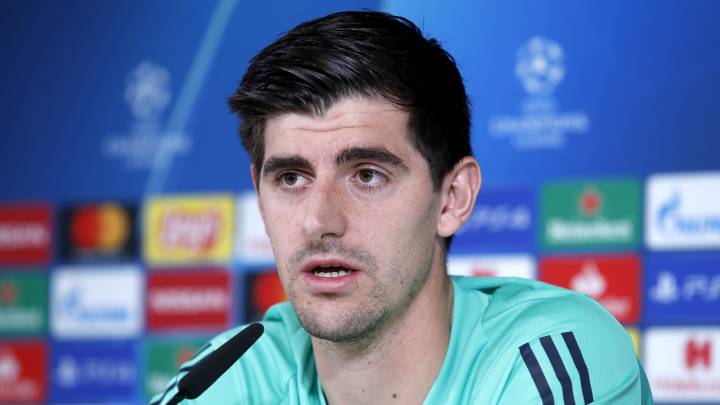 Thibaut Courtois joined Zidane to attend the media in Tuesday's pre-match press conference as both looked ahead to Real Madrid's first group stage game of the 2020/21 Champions League. Madrid take on Shakhtar Donetsk at 18:55 hours local time at the Alfredo Di Stéfano stadium in Valdebebas on Wednesday. Zidane's team go into the match on the back of a disappointing defeat to Cádiz. Courtois spoke about the current situation.
Start of the new Champions League season: "It's very important for us. It's a very special competition and we need to get off to a good start. It's important to start winning, that would serve us well for the remainder of the season".
Courtois, called on more than usual
In good form personally: "I feel really good and I'm in a good moment of form. I have been working exactly the same since my first day here. When you join a new club, you need time to adapt. I hope to continue helping the team every day and continue playing well".
Madrid without Sergio Ramos: "We'll see what happens tomorrow. He's our captain and so of course we are going to miss him. We have a big squad, and if he can't play, there are others who are more than capable of standing in for him".
Is it a bad sign that you are the team's best player in every game? "Everyone is trying to do their job as best as they can. I try to help the team get through the difficult moments. Now that we are winning games by a slim margin, maybe people are noticing what I do more".
Madrid looking weak in defence: "I think it also depends of the teams we are playing against. Cádiz, Valladolid and Levante defend well and it's not easy to break through their lines so we need to put a lot of players in front of the ball which means when things go wrong, we get hit on the counter attack. It's no deal if we have a couple more shots more to deal with. We have to focus on continuing to work well".
The team not looking as strong this season: "I think we are just as solid. Our rivals change their system when they play us. It's not always the same every season. This is modern football and there is a lot of quality in LaLiga. We've kept three clean sheets, I think we're doing well".
Favourites to win the Champions League
Madrid not among the favourites to win the Champions League: "I have total faith in our squad so I don't see it that way. We can win the Champions League. Madrid always starts out as favourites in this competition - after that, it's up to us to show it out on the pitch. We are more than capable of winning it. There are a lot of other teams too - the best teams in Europe. We might not be the clear favourites but we are going to compete to win it in just the same way as PSG, Bayern, Juve, Barça and the rest".
Competition from Lunin: "He's a great goalkeeper, and has a great future ahead of him. He's training really well. I'm sure he'll do a good job when he's called on to play. It's competition for both of us, he's a decent keeper. We'll push each other so that we both improve and be ready when the weekend comes".
Covid-19 fears: "Every country is making the decisions they need to make so that their league competitions and the Champions League can go ahead. There are strict protocols in place and that allows us to play away from home. It all depends on how the pandemic evolves. Hopefully, things will be better for all of us and soon we can have the fans back in the stands".