Christian Pulisic makes his debut in the Champions League with Chelsea this season
The United States international was part of the starting XI for Chelsea and was subbed out during the stoppage time of the second half against Sevilla in a scoreless draw.
Christian Pulisic was given the No.10 jersey for his second year with Chelsea and he made his debut with his new number in the UEFA Champions League on Tuesday night against Sevilla. This is the third game in a row that the United States international has played since returning from an injury he suffered in the beginning of the season.
He received the medical approval to return prior to the game against Crystal Palace on 3 October, where he only played 7 minutes in Chelsea's 4-0 victory in the Premier League. Fortunately for Pulisic there was a FIFA international break so he had more than a week to return to full fitness.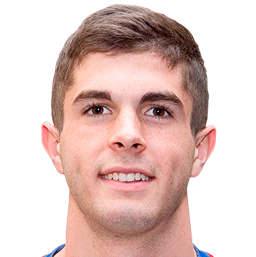 The next game was against Southampton and coach Frank Lampard decided to put him in the starting XI. Christian Pulisic played 87 minutes and Chelsea ended up drawing 3-3 against Southampton.
Debut in Champions League with his new number
On 20 October the UEFA Champions League was back in action and Chelsea played against Sevilla for their first match of the group stage. Once again Pulisic was amongst the starting XI and played 90 minutes in the scoreless draw at Stamford Bridge.
Frank Lampard doubted Pulisic
Christian Pulisic had a hard time adapting to the Premier League at the beginning of 2019, after Chelsea paid 58 million pounds to Borussia Dortmund for the young American. A big part of his problems came from injuries and he struggled to win over coach Frank Lampard, being used mainly only as a sub.
According to RB Salzburg boss Jesse Marsch, Chelsea's coach didn't rate Christian Pulisic when he first arrived at Stamford Bridge because he was from the United States. Marsch believes that Pulisic was fairly untreated in the beginning.
"The perception in Europe, mostly, is that the American player is willing to run, willing to fight, has a good mentality, but technically they're not very gifted and tactically they're not very aware and their experiences aren't very big," he told Extratime Radio.
"Even Frank Lampard, when I spoke to him in preseason a year ago now, I was talking to him about having Christian Pulisic, and he was kind of like: 'Yeah, he's got a lot to learn, so we'll see how he does.' I said to him: 'Listen, he was at Dortmund, and they had a high level of tactical thinking, of playing, and he was very successful," he added.
Christian Pulisic has turned things around at Chelsea and now he is one of Lampard's most important players but he had to earn a spot in the starting XI and the No.10 jersey. So far he has 37 appearances in all competitions with 19 goals and 26 assists.