Real Madrid's defence falls to pieces without Sergio Ramos
The Shakhtar game was Madrid's latest European disaster without their captain. Since 2018, the team has suffered defeats to Ajax, PSG, City and CSKA...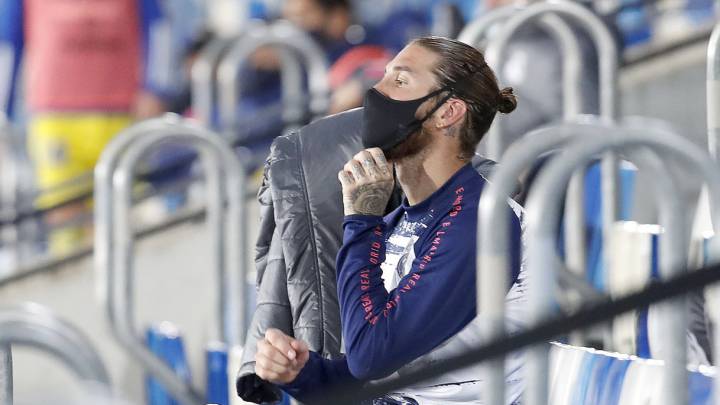 Real Madrid's shambolic first-half display against Shakhtar Donetsk once again illustrated how important Sergio Ramos' influence is on the team. In Europe, whenever they have been without him, Madrid fall to pieces. The magic that accompanied the team's eleventh and thirteenth European crowns has long disappeared. And since then, when Ramos has been unavailable for suspension or injury, Madrid have looked listless and leaderless. It was plain to see in the last Champions League game of last season, when Zidane's team were beaten 2-1 in Manchester on an evening which Varane will be keen to forget. It happened again in the first group game of this season's edition with Militão seemingly miles away and at fault for much of Madrid's sloppy defending. Last night both players - Varane for showing no leadership in Ramos' absence and Militão for a lack of attitude, have come under fire...
Madrid, weak without Ramos in Europe

And there have been other games in which Madrid have disintegrated without their captain. In the 2017-18 season, Juventus came close to eliminating a Madrid side without Ramos by beating them 1-3 in the first leg of the quarter finals. Then there was the humiliating 1-4 defeat to Ajax at the Bernabéu during the season when the club went through three coaches - Lopetegui, Solari and Zidane. Without Ramos, Madrid lost home and away to CSKA that same season (1-0 and 0-3). Last season, with Zidane at the helm, the Varane-Militão pairing were picked apart by PSG as it ended 3-0 at Parc des Princes and Madrid were left looking exposed once more in Europe without their leader.
Ramos missed the Shakhtar game after taking a knock to his knee against Cádiz at the weekend. Madrid fell behind as early as the 13th minute to a rival with most of its first choice players self-isolating after positive coronavirus tests and yet still managed to open the scoring in a one-on-one with Courtois. After that, instead of improving, it got worse. The Ukrainians put three past Madrid in the first 45 minutes and it could easily have been four or five. The sight of Militão trudging back at an almost pedestrian pace in the move that led to the third goal shocked Pedja Mijatovic, commentating on Carrusel Deportivo, who exclaimed, "I don't know what is going on with Madrid's centre-backs but Good God..."

Result could have been even worse for Madrid
If Militão was at fault, Casemiro, Varane, and Marcelo weren't much better - the left-back was caught upfield several times and unable to get back. Férland Mendy, a naturally left-sided defender playing out of position as a makeshift right-back was the only one who gave a good account. Dentinhó missed a golden chance to make it 1-4 on 55 minutes and Teté could have made it 2-4 in another one-on-one with Courtois in the 68th minute. Teté was caught offside when Marlos had the ball in the back of the net with 10 minutes of normal time remaining. Madrid's defending was simply not the standard you would expect from a team which aspiring to win the Champions League - as both Courtois and Zidane claimed in the pre-match press conference.
What's worse for Zidane is that Wednesday's lesson could leave psychological scars. Varane admitted that he struggled to regain focus after his two costly mistakes at the Etihad in August. This latest defeat, including an own goal, will only rub salt in the wounds. In the meantime, Ramos isn't getting any younger and his contract expires in 2021...