Zidane: "Clásico is a good game to redeem ourselves"
Zinedine Zidane has given a press conference ahead of Real Madrid's Clásico clash with Barcelona at Camp Nou.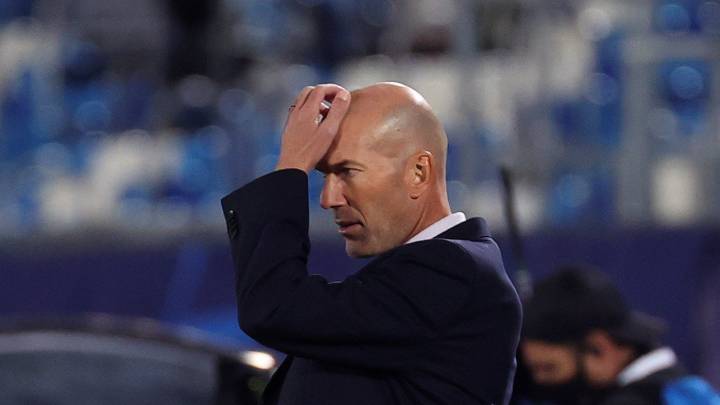 Zidane speaks ahead of Barcelona-Real Madrid
A Clásico without fans: "We know that we are going to find an empty pitch, but it is the same for all teams. It is a different Clásico but it is always special. For us it is important to start the game well."
Return of Sergio Ramos: "We know that he is our leader and the captain. We will not risk anything, as always. He has recovered and he's going to be with us. It is about being 100% and I think he is there."
Reading of Shakhtar Donetsk defeat: "We watched the game, as always. We started badly, in the sense that when we go a goal down, we found it difficult to lift our heads. It was difficult for us to play against a team sitting back, we could not find the solution. It's football, there are highs and lows in a season. We want to prepare well for our game, which is a different game, and forget what happened to us."
Clásico as the best way to escape the current mini-crisis: "It is the best way because it is the match we have. It is a good match to redeem ourselves. We want to change the situation and that is what we are going to try to do."
Do you like be the victim at Camp Nou: "I don't like to be a victim of anything. Each game has its history. It's the beauty of football. Bad moments can happen, but the good thing about football is that you can change the situation again. This is what we are going to do, think positive."
Addressing the lack of confidence: "The work over the last 48 hours is rest and preparing for the game. What is going to change is the game itself: we need to start strong. Confidence goes with what you are going to do on the field."
Thoughts on Barça: "It is a team that has always been strong. Each coach has their own way of doing things, but Barça is always Barça. It is a competitive team that knows how to play and make things difficult for you. I will not go into the details about what they do. We are going to have a difficult game."
Zidane: "
Some ugly things are said about this the team"
What must you do to reverse the situation: "Find the solution. I am critical of myself; I am the catalyst to improve. We can all change things together. After a defeat, as a coach most of the criticism comes towards me and that's normal. I do not look at the past, I am interested in what lies ahead and we have the opportunity to play a good game."
Motivation to win: "We always go on the pitch to win. Sometimes things don't work out for you for various reasons. But the good thing is that there is a game and what a game it is. We have to focus our concentration and dedication on the pitch."
Do you feel the support of the club and the players?: "Yes, of everyone. I have won many things with the players; they have helped me win many things. I will always fight until the death with them. They are the ones who fight, run, fight. I do feel the support. But the important thing is to change our mindset because we have had two difficult games and now we have a game to change things. Football is beautiful because there are difficult moments, when things get a little worse, those with character and quality step forward ... We have to bring that out."
Working together: "Some ugly things are said about this the team. And I am the coach and the one who makes the decisions. We will try to do things together. I always say the same thing: nothing changes. We work to try to change things. When there is a bad game you have to come together, not only in football, but in life. We want to be together and try to change what is negative into positive."
Is your future at stake?: "That is what is said… I won't deny it. Does that change? Nothing has changed. In my first stage it was the same, it does not change. What I have to do is my job, give 100%, everything I have inside. Nothing else."